Posted on
MoE distributes reading kits to 15 primary schools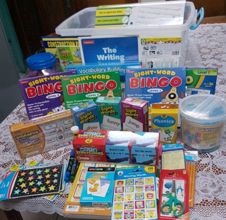 The Ministry of Education last week distributed reading kits to 15 schools that participated in a Literacy Coordinators' Workshop.{{more}}
The workshop, which was held at Frenches House on Wednesday, October 9, was hosted by the Ministry.
The reading kits include resources to support the literacy programs in the entire school (Grades K-6) and in areas such as: Reading, Phonics, Word Recognition, Vocabulary, Writing, and interactive activities to make reading fun. Each kit is valued at EC$1,000.
Ten reading kits were purchased with funds received from the European Union via the Planning Division under a special project. The 10 schools were Chateaubelair Methodist, Rose Hall Methodist, Barrouallie Anglican, Clare Valley Government, Kingstown Government, Kingstown Anglican, Lowmans Windward Anglican, Langley Park Government, Sandy Bay Government and Owia Government Schools.
Additionally, five kits were presented to Child Friendly Schools (CFS) funded by UNICEF. Those schools were Spring Village Methodist, Lodge Village Government, Bequia Anglican, South Rivers Methodist and Marriaqua Government.
The Ministry of Education, in a release, expressed sincere gratitude for the contribution made to raising the standard of literacy in St Vincent and the Grenadines. It is anticipated that all primary schools will receive similar kits, once funding is available.