Posted on
Police probe cause of fire which destroyed three city buildings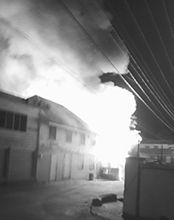 Police are investigating the circumstances that led to a massive fire and caused the destruction of three buildings in Kingstown last weekend.{{more}}
According to reports, some time before 10 p.m. on Friday night, flames were seen erupting from the uninhabited building which was the home of deceased educator Bertram "Timmy" Richards, which adjoins the Charles Verbeke Centre on North River Road.
A commercial building that was situated next to Richards' house and was owned by Randolph Russell, who died the day before the fire, was destroyed in the blaze as well.
The heat from the fire also caused minor damage to the windows of Gibson's Building Supplies, located across the river, and a drainpipe at the St Joseph's Convent Kingstown, situated across the road from the burnt buildings.
The Centre, owned and operated by the Catholic Diocese of Kingstown, housed a number of institutions and organizations, most notably the grade six classes of the St Mary's RC School.
The 78 students and four teachers have been temporarily relocated to the nearby Cathedral of the Assumption, which was designed and built by Father Charles Verbeke.
The Charles Verbeke Centre was dedicated in honour of the priest, architect and musician, who designed and oversaw the construction of a number of Catholic churches in St Vincent and the Grenadines.
He died in New Orleans, Louisiana, in 1946, on his way to St Vincent from a fund raising venture.
The Centre at one time also housed the St Martin's Secondary School.(JJ)