Posted on
GHS student wins Secondary School Bible Quiz for Septem­ber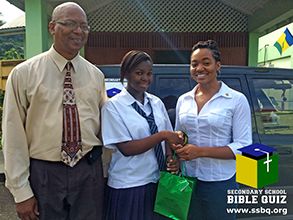 Godwina Joseph of the St Vincent Girls' High School (GHS), the winner of the Secondary School Bible Quiz for Septem­ber, received her prize on Monday, October 13 from Joanna Jack. {{more}}
The prize consists of a Bible, $150 cash and a gift voucher from Acute Cosmetics, valued $150.
The GHS has now won the monthly quiz on 17 occasions, more than any other school.
Secondary school students are encouraged to enter the quiz every month. It is a good and noble way of getting to know the Bible better and having an opportunity to win valuable prizes.  
www.ssbq.org