Posted on
Students told to seek authoritative sources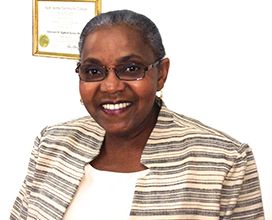 Students in St Vincent and the Grenadines have been advised to seek authoritative sources whenever there is an issue that needs to be clarified.{{more}}
This recommendation was made on Sunday by Permanent Secretary in the Ministry of Education Nicole Bonadie-Baker, while being interviewed on Unrendered on IKTV.
Her exhortation came weeks after Opposition Leader Arnhim Eustace rubbished the associate degrees being offered by the St Vincent and the Grenadines Community College (SVGCC), stating that they were not worth the paper they were written on, as they are not accredited and cannot be used to matriculate or receive advanced placement at university level institutions.
"As the Permanent Secretary in the Ministry of Education, I think when those erroneous pronouncements were made, the whole country focused on the St Vincent and the Grenadines Community College and the students of the associate degree programmes. I wasn't the least bit worried about that. I knew they were false. I knew that persons would be ridiculed down the road, because somebody would point out the fault," Bonadie-Baker said.
"But my concern, when I saw those false allegations being made, and the stature of the person making them, I went in my thoughts to the almost 30,000 students in St Vincent and the Grenadines in our education system. That's where my responsibility lies."
Bonadie-Baker noted that in all areas of a child's academic life, they are called to do projects, essays and school-based assessments that require them to quote from authoritative sources.
She further explained that this is not only to avoid plagiarism, but also to ensure that the person reading that work can verify that the student is not submitting work based on hearsay.
The Permanent Secretary revealed that she chose to speak out publicly on the issue because she could not sit by and allow bad examples to be learned by students who were under her direct responsibility.
The Permanent Secretary said it is the bad example set by a person of high stature in society, when he made a false allegation without checking the authorized source, why she is speaking out.
Bonadie-Baker, however, said she can attest that several persons have been able to matriculate and receive advanced placement at universities, including the UWI and the University of Technology in Jamaica, based on their associate degrees.
In addition, she stressed that if there is a question on education related matters, persons should first come to the Ministry of Education with their queries.
The Permanent Secretary noted that this issue would ripple down in generations to come and that persons must speak with their children and encourage them to always be circumspect with their work.
Chair of the National Accreditation Board Dr Rosalind Ambrose also shares this same view.
"If there is something you are not clear on, find a credible source, not just any source, because sometimes we get distracted by the most boisterous source; the one that's talking the loudest, whether that is accurate or not.
"We need to teach our children to be more investigative and to navigate the systems and find out the truth in something and seek the voice of authority, not the voice of hysteria," said Ambrose, who was being interviewed along with Bonadie-Baker last Sunday. (BK)