Posted on
Park rangers, wardens measure coral reef health across the Grenadines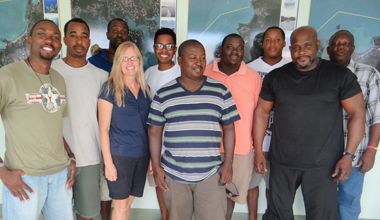 Park rangers and wardens from Grenada and St Vincent and the Grenadines have taken part in joint training on monitoring coral reef health. A team of rangers and wardens then travelled to each other's parks to help complete underwater surveying work.{{more}}
Organized by Sustainable Grenadines Inc, this is the first Grenadines-wide field work expedition by and for members of the Grenadines Network of Marine Protected Areas. Six rangers and wardens, representing the six marine protected areas, took part in the expedition, together with expert trainers.
"The participants spent the first four days in Grenada, where they learned how to survey fish, corals and the sea bottom, using a well-recognised scientific method to gather information," explained Myles Phillips, of Sustainable Grenadines Inc.
"Following the training, we established permanent monitoring sites and did surveys in the six member marine protected areas, from land and over the course of a five-day sailing expedition."
The work covered Grenada's Moliniere-Beausejour Marine Protected Area, Woburn/Clarke's Court Marine Protected Area and Sandy Island/Oyster Bed Marine Protected Area; and in St Vincent and the Grenadines, Tobago Cays Marine Park, Mustique Marine Conservation
Area and the South Coast Marine Conservation Area.
Since 2011, these six sites have shared information and collaborated to promote the conservation and sustainable use of marine resources that are so important to local communities and to local livelihoods. Now the network is actively monitoring the health of coastal and marine resources in the Grenadines.
"This is a milestone achievement for the marine protected areas and can yield far-reaching benefits for the effective management of these national reserves," commented Orisha Joseph Programme and Communications officer, of Sustainable Grenadines Inc. "It has equipped the members of the Grenadines Network of Marine Protected Areas with trained staff who will be able to recognise and track changes on the reefs as they occur."
The next stage of the work is to analyse the findings, compare them with past surveys and report back to coastal managers, local fishers and communities. Sustainable Grenadines Inc will continue to work with the marine protected areas and local communities, as they consider appropriate actions based on the findings of the research.
The research was made possible through sponsorship from the US National Fish and Wildlife Foundation, to strengthen coral reef management practices on the Grenada Bank. Scientific expertise was provided by the Atlantic and Gulf Rapid Reef Assessment (AGRRA) Program, an international collaboration of scientists and mangers aimed at determining the regional condition of reefs in the Western Atlantic and Gulf of Mexico.