Posted on
Coreas Hazells Inc donates Colgate toothpaste to mark Dental Health Week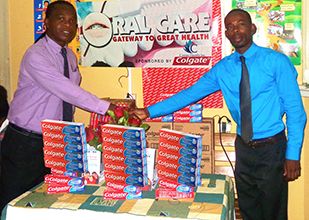 Coreas Hazells Inc continues to reach out to various organizations throughout St Vincent and the Grenadines. The focus of the most recent collaboration is on dental health through the Ministry of Health and the Environment, as they celebrate Dental Health Awareness Week 2014.{{more}}
The Colgate brand, for which Coreas Hazells Inc is the distributor, has been described as the ideal fit for the week of activities under the theme, "Good Oral Health: The Gateway to a Healthier You."
The sponsorship, valued at $8,000, includes a quantity of Colgate toothpaste and toothbrushes.
There was a handing over ceremony, to Dr Brendon Richards in the presence of chief dental surgeon Dr Errol Parsons, at the Milton Cato Memorial Hospital on Monday, October 6.
Sales and Marketing manager of the Colgate brand Colleen Phillips was also present during the ceremony.
Dr Brendon Richards made a presentation on Maternal Dental Health to approximately 75 persons, followed by a question and answer session.
Senior Marketing coordinator of Coreas Hazells Inc Ezzie Roberts, while handing over the items, stated, "We are quite aware of the importance of maintaining good health generally and dental health by extension is just as important." He continued, "We at Coreas are quite happy to respond to this request and to partner with the organizers of Dental Health Awareness activities 2014, through Colgate, a brand which we are truly proud to represent."
Dental Health Awareness Week commenced on Sunday, October 5 and is expected to end on Friday, October 10.