Posted on
PCCU boosting students' drive to produce local foods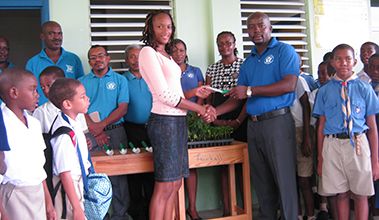 The Police Co-operative Credit Union (PCCU) has donated a set of seedlings to the Fair Hall Government School Garden Project, which will provide students with the opportunity to produce fresh, locally grown foods and enhance their educational experiences while doing so.{{more}}
On Friday, October 3, 2014, representatives of PCCU donated a quantity of vegetable seedlings and garden tools to the principal and staff of the Fair Hall Government School, Sherron Peters, during the school's assembly. Among the seedlings donated were eggplant, tomatoes and sweet peppers.
Delivering brief remarks at the event, president of the Police Co-operative Credit Union Junior Simmons expressed the Credit Union's excitement at being associated with the school since 2012, when the school was adopted by the PCCU.
Making reference to SVG's Dietary Guidelines, Simmons encouraged the students to eat healthy foods, especially fruits and vegetables, instead of corn-curls and sweets. He told the students that eating healthy foods will result in a healthy mind and body, which will help them to produce better grades in their school work.
Simmons stated that the vegetables, when mature, will supplement the food that is prepared by the school's feeding programme.
He encouraged the students and teachers to take care of the seedlings on a daily basis to ensure that they grow and bear fruits.
Simmons urged the students to grow the seedlings with pride, because by so doing, they are playing their role in ensuring that St Vincent and the Grenadines grows enough food to feed its population.
Peters, in her remarks, stated that the school was delighted to continue its partnership with the PCCU. She thanked the PCCU for its donation and gave the assurance that the produce from the seedlings will be used to supplement the school feeding programme.
According to Peters, the Fair Hall Government School emphasizes and encourages healthy eating; thus the school is happy that the PCCU has chosen to assist them in taking care of their health needs.
The principal encouraged the students to save in the School Co-operative in order to enable the PCCU to be in a better financial position to provide more assistance to the school.
Manager of the Police Co-operative Credit Union, members of the Board of Directors and the Education and Marketing Committee were also in attendance.