Posted on
Celebrating Co-operative Month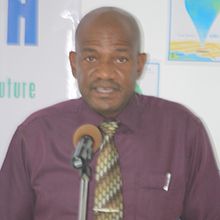 This year, the theme for Co-operative Month is 'Local Service-Global Good'.
The St Vincent and the Grenadines Co-operative League launched their Co-operative Month celebrations yesterday Monday, October 6, during a press conference at the League's office in Lower Kingstown Park.
Celebrations continue today Tuesday, October 7, with a church service at the Methodist Church in Kingstown.
The service will be followed by a march, which culminates at Heritage Square.
On Saturday, the SVG Teachers Cooperative Credit Union teams up with the Barrouallie Cooperative Credit Union to hold a community rally in Barroaullie while next Tuesday, October 14, marks the beginning of International Credit Union Week, which is also celebrated locally.
Also on October 14, the National School's Cooperative Awards ceremony will be held at the Peace Memorial Hall. This will see the top junior savers in the various school cooperatives being rewarded.
On Friday, October 17, the SVG Police Force Co-operative Credit Union will hold a karaoke and domino competition at the Police Canteen, while on Saturday, October 18, the Government Employees Co-operative Credit Union (GECCU) will hold a family fun day at the Richmond Hill Playing Field.
The Kingstown Cooperative Credit Union (KCCU) holds a Senior's Care Day on Saturday October 25, while on October 30, there will be a Cooperative Sector Leadership Symposium.
Commenting during the press briefing, president of the St Vincent and the Grenadines Co-operative League Kelvin Pompey said that worldwide, Co-operative Month 2014 is being celebrated as October has been identified over the years as the month in which co-operatives join together to celebrate achievements, successes and ideals.
He said that apart from Credit Union Week (October 13-18) and Credit Union Month, there is also Credit Union Day (October 16th), where worldwide, organizations celebrate the cooperative philosophy.
"This is the month when cooperatives here in SVG join with more than 59,000 cooperatives with over 280 million members in 10 countries and celebrate our mission and heritage," said Pompey, who added that credit unions and cooperatives have a mission of putting people first and a heritage of, "caring and sharing for each other."
Pompey stressed that what is special about credit unions and cooperatives is that the organizations belong to the members and are owned and managed by members and can be described as not for profit organizations.
He said that the surplus achieved is distributed in the form of dividends and interest to members.
During his remarks, Pompey encouraged persons to take part in the month long activities that include a number of radio and television programmes and social media promotions.