Posted on
Treelympics exercise moves to Bequia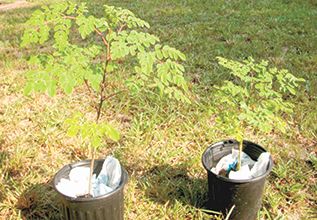 On Wednesday, October 1, professionals who work in the Environmental Management Department of the Ministry of Health, Wellness and the Environ­ment, the Richmond Vale Academy and Scotia Bank travelled to Bequia to facilitate a tree planting exercise at seven schools on that island.{{more}}
This exercise is a national initiative which forms part of the Environmental Online (ENO) Treelympics 2014, which is being coordinated by the Ministry of Health, Wellness and the Environment, the Richmond Vale Academy and Scotia Bank.
The schools involved in the exercise on Bequia are: the Bequia Community High School, the Bequia Seventh-Day Adventist Secondary School, the Bequia Anglican Primary School, the Bequia Seventh-Day Adventist Primary, the Bequia Sunshine Academy, the Bequia Paradise Primary School and the Paget Farm Government School.
ENO is a global virtual school and network for sustainable development, which engages children, youth, schools and cities of the world to join a treelympics, Olympics for tree planting. The goal is to plant 100 million trees by 2017.
With a total of 157 countries having joined since the launch in 2000, schools around the world are committed to the challenge.
To date, the Environ­mental Management Department, in collaboration with the Ministry of Agriculture, the Ministry of Education, the Richmond Vale Academy and Scotia Bank, has successfully registered more than 100 schools and groups in SVG to participate in the programme. Each school registered will plant at least 15 trees, including 10 moringa and five ornamental/fruit trees. The initiative is designed to build awareness among Vincentians about the importance of trees for life.
Among the benefits of trees are: to filter pollution from the air, to sequester carbon (1/5 of CO2 is tied by world's forests), to help recycle water, to prevent soil loss, to create shade, to provide homes for animals, to make food for human and wildlife, inter alia.
Trees have so far been planted in all schools on the Leeward side of the island and the Belle Isle Correctional Facility in North Leeward. In the coming weeks, trees will be planted in schools in Kingstown, on the Windward side, and also in the Southern Grenadines, prior to the deadline of 24th October, 2014.
In the light of climate change, with biodiversity loss and land degradation being the major environmental issues affecting SVG, planting a tree is a small step towards protecting the environment and sustaining life.