Posted on
SVG urges UN to accommodate Taiwan's participation in specialized agencies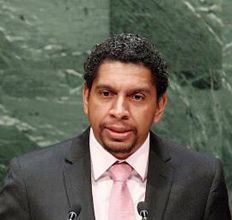 The Embassy of the Republic of China (Taiwan), on behalf of its Government, has expressed its gratitude to the Government of St Vincent and the Grenadines for its support in urging the United Nations (UN) to accommodate Taiwan's participation in its specialized agencies, such as WHO, ICAO and UNFCCC.{{more}}
On September 29, Minister of Foreign Affairs Camillo Gonsalves, during the delivery of this country's address to the 69th Session of the UN General Assembly, said that the prestige and legitimacy of the United Nations can be further enhanced through further acceptance of the reasonable calls for Taiwan's meaningful participation in the specialised agencies of the United Nations.
"Taiwan already participates actively and constructively in many critical international bodies. My country, and several others in the Caribbean and Central America, bear testimony to Taiwan's principled conduct of its inter-governmental relations. Surely, the time has now come for this exemplar of the magnificent Chinese civilization to be permitted to participate in the work of various agencies of this world body," Gonsalves said.
The Embassy pointed out in a release that Taiwan owns one of the busiest airspaces in the world, with over 40 million travellers entering, leaving or passing through each year.
"As a key international transport hub, Taiwanese airspace is critically important to the global community. To ensure the highest standards of air safety worldwide, ICAO cannot afford to exclude Taiwan from participation in its activities. Taiwan has been working consistently to improve cross-strait relations with the People's Republic of China (PRC) and attain broader recognition in international bodies. In September, 2013, Taiwan was invited to the 38th Session of the ICAO Assembly, which brings Taiwan one step closer to ICAO's goal of achieving a truly seamless sky. If Taiwan could become an observer of ICAO, Taiwan's experts and officials would have access to ICAO meetings, mechanisms and activities, which would be conducive to safe, orderly and sustainable development of international civil aviation.
"On the other hand, the challenges posed by climate change have continued to grow during the past decade. As no country will be immune to the impact of global warming, it is of extreme importance that we address these challenges in a global manner to ensure our planet's sustainable development. Taiwan's meaningful participation in the Convention would conform to the spirit and purpose of the UNFCCC, which acknowledge that 'the global nature of climate change calls for the widest possible cooperation.' Taiwan has been keen to join international efforts aimed at saving energy and reducing carbon emissions by making effective use of its advantages in high-tech and design. It is imperative that the UNFCCC take necessary measures to accommodate Taiwan's meaningful participation in its meetings and mechanism, so that not only Taiwan but other countries can also be benefited," the release from the Embassy said.
According to the release, the Embassy believes that Gonsalves' speech at UN would be instrumental in bringing international attention to the fact that UN specialized agencies will function even much better with the participation of Taiwan.