Posted on
Strike Force Paint Ball Arena launches in SVG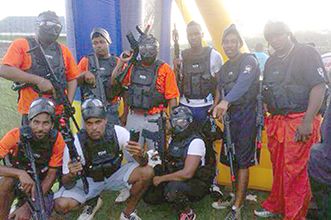 As one way of keeping the dream of his late brother Agassi Fraser alive, Cauldric Fraser has decided to pursue a business venture they plotted years before his death – starting a paintball arena.{{more}}
That dream was resurrected on Sunday, September 28, with the official launch of the Strike Force Paint Ball Arena, at the Arnos Vale Sporting Complex.
"After my brother died, I did not want to give up on what we had set out to do, because it's something me and him started doing. I just wanted to see it through," Fraser said.
Sunday's launch saw six teams do battle in a celebrity tournament called "operation wipeout," with quite a few spectators present.
Fraser admitted that he was a bit worried about the turnout, but noted that he was happy with the response he got from the public.
"The reception was better than expected. I was a bit nervous going into it, but it turned out very well. We had about six teams turning out; everybody got to play. People were wondering if the tournament would continue, but that was just a promotion for the launch," he said.
According to Fraser, he and his brother wanted persons to experience something more realistic than just playing the video games of the same activity.
That was when he said he began making the necessary contacts to get help in starting up the business.
In the initial stages, Fraser said he faced several hurdles, including permission to import the firearms and land to set up a combat field.
However, he said one of his friends came up with the idea of making the activity mobile, by going to various playing fields around the country and giving people the opportunity to experience the paintball activity.
Each player will be given five magazines with 20 paintballs each, a vest, gun and mask for an hour and a half of playtime to compete on the field of combat.
Fraser said their main objective is to book teams to compete, but are open to individuals who come to the venue without a booking.
"We are open to the individuals. Let's say if you come to spectate and you have a cash on hand, we will try to accommodate you," Fraser noted.
As time progresses, Fraser said, persons can look forward to a more elaborate set-up of the combat course.
He said they want to have more tournaments in the near future where every time a team participates, win or lose, points will be tallied and a record kept.
"Next year, we want to have a tournament where you have to win a certain amount of games to qualify for the tournament," Fraser stated.
He further thanked his parents for all their assistance and his close group of friends for being there to support and help him from the start.
This weekend, starting from Saturday at 9 a.m., Fraser and his team will take their show on the road and set up at the Calliaqua playing field. It continues on Sunday, October 5.
Interested persons can contact their hotline number at: 493-6029 to get more information and book their spots.