Posted on
Port Authority celebrates 50th year of Kingstown deep-water pier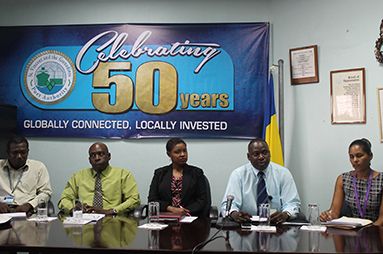 The St Vincent and the Grenadines Port Authority (SVGPA) has spent half a century being "Globally connected – Locally invested."
In celebration of 50 years since the Kingstown deep-water pier was constructed, the SVGPA has planned numerous activities which will run throughout the month of October.{{more}}
CEO of the SVGPA Bishen John was speaking at a media briefing on Tuesday when he noted that the construction of the deep-water pier was a "significant game changer" in St Vincent and the Grenadines.
"…Prior to this, visitors coming to the island had to stay at anchor and cargo was brought to shore by hand on smaller vessels," John said.
"We wanted to celebrate this because we have recognized the development gains that this country has seen over the years because of this Kingstown deep-water pier. It is 50 years now and it is still … functional. We still use it on a daily basis and in fact still handle 50 per cent of the cargo coming into this country."
The CEO also gave background into the theme, "Globally connected – Locally invested," as he noted that the pier served to connect the multi-island state not only with neighbouring islands but on an international scale as well. He added that the government in that time invested by providing real estate and a measure of financial support.
Chairman of the SVGPA Edwin Snagg commended the committee that was tasked with putting together the month of activities and highlighted the importance of recognizing that the Kingstown deep-water pier is essential to the country.
"One has to look at this in its entirety in terms of the contribution that the Kingstown deep-water pier has played to
St Vincent and the Grenadines, the role it has played in the economic development, the social development," he said.
"There is a certain perception we have had over the years of the pier, of the waterfront, et cetera, but all of that is going to be dealt with over the next couple days and the month of October."
Additionally, several radio discussions are expected to take place on NBC radio.
The month of activities includes a number of radio discussions which will take place on NBC radio.
The first will be a panel discussion on October 5 at 11 a.m. and will deal with how the deep-water pier has changed St Vincent and the Grenadines. The panel is expected to include the chairman, Snagg; the CEO, John; comptroller of Customs Grenville John; CEO of Coreas and Co Joel Providence and representative of the union Noel Jackson.
Radio interviews will also take place on October 10 and October 24 from 8:50 a.m. to 9:20 a.m.
Also included in the month of activities is a thanksgiving service which will take place on October 7 at the Geest Shed.
A number of Customer Appreciation Days will also be included, with the first one being in Campden Park on October 8. Customer Appreciation Days are also slated for October 15 at the Cruise Ship Terminal and October 22 at the Kingstown Office. A family fun day and the annual dinner and awards will wrap up the celebrations. (BK)