Posted on
NTRC public drive geared towards sensitizing public on I2 competition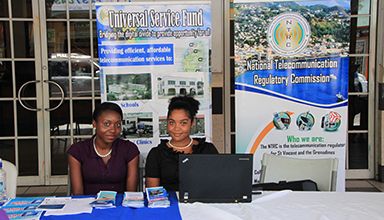 The National Telecommunications Regulatory Commission (NTRC) on Friday, September 26, held a public drive under the Kingstown Post Office, geared towards sensitizing the public on their second I2 competition, among other things.{{more}}
In an interview with SEARCHLIGHT, Shanka Edwards, projects officer of the Universal Service Fund (USF) at the NTRC and project co-ordinator of the I2 competition, said they are excited about the competition and are looking forward to seeing what the students come up with.
"We're encouraging them to propose projects in the form of mobile apps and ideas that can be implemented into the government service to make the service more efficient and convenient," Edwards said, adding that they expect wide participation.
The competition, which was officially launched on September 11, is open to students at secondary, technical and tertiary level institutes, including the medical colleges.
Lizrene Charles, USF assistant, described the response from the public as "good."
She said the NTRC visits schools and learning resource centres to make individuals more of aware of the services provided by the NTRC and technology on a whole.
The deadline for submission of registration forms is on October 10, 2014.