Posted on
Solid progress continues amidst challenges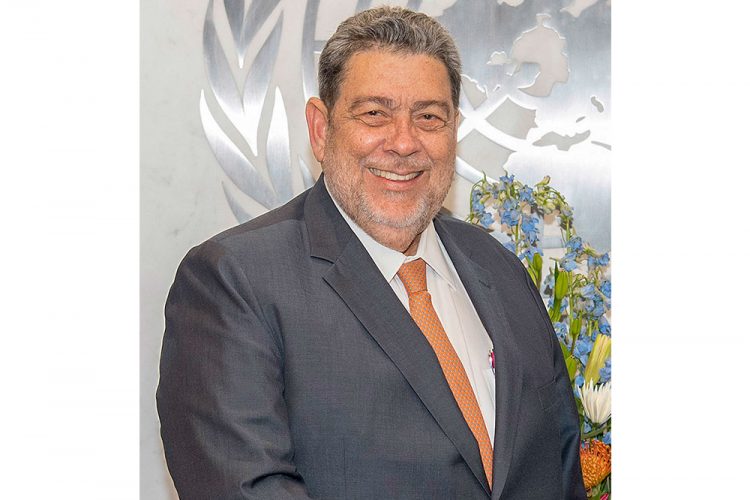 BY DR THE HON RALPH E GONSALVES
PRIME MINISTER
Thirty-nine years ago, on October 27, 1979, St. Vincent and the Grenadines formally acceded to constitutional independence. In the process, the political and constitutional umbilical cord was severed from Britain, save and except in two critical respects: The retention of the British monarch as our country's titular Head of State; and the preservation of Her Majesty's Privy Council as the Court in which resides our nation's final appellate jurisdiction. These twin-colonial inheritances have been with us since Britain assumed suzerainty over St. Vincent and the Grenadines in 1763, except during a short period in the late 1770s to early 1780s when the French temporarily dislodged the British as our country's colonial overlord.
British colonialism bequeathed to our people at independence the awful legacy of underdevelopment consequent upon its genocidal acts against the indigenous peoples (Callinago and Garifuna), its enslavement of Africans transported forcibly to our country, its imposition of indentureship on recruited labourers from Madeira and India, and its distortion of our country's natural trajectory of development through colonialism and imperialism.
This debilitating, composite legacy of underdevelopment still constrains and hampers our country's developmental efforts, despite the fact that after independence Britain has become one of our reliable developmental partners. We acknowledge, too, that Britain has shaped one of our acquisition of two enduring assets: The English Language; and the Common Law as the foundation stone of our jurisprudence. Thus has evolved with Britain, and by extension Europe, a post-colonial relationship which is awash with complexities and contradictions but growing into a settled state of maturation to our mutual benefit, by-and-large.
The material limitations of our country's condition as a small island developing state inhibit our development: Small land area, small population, a scarcity of some vital skill sets, an inadequacy of capital resources, and the fragility of our physical environment, particularly in an era of adverse climate change. Still, the possibilities inherent in our very landscape and seascape, our people's capacities and resilience, our practical commitment to the values of democracy and liberty, our collective wisdom and understanding in the pursuit of a better life, our partnerships with friends and allies overseas, and our profound belief and faith in Almighty God, have ensured that our country has enjoyed peace and, at least, moderate prosperity in the last 39 years. In fact, St. Vincent and the Grenadines, is at the higher end of the category known as "middle-income developing country".
In the last 18 or so years, we Vincentians have been witnesses to significant, positive developments in our country, including: The Education Revolution; the Health and Housing Revolution; the immense, life-changing, upgrades in the physical infrastructure including the Argyle International Airport, the Canouan Jet Airport, and the Rabacca Bridge; the massive reduction in indigence and undernourishment; enhanced job-creation and wealth creation; the unprecedented expansion in the delivery of telecommunications, water and electricity; the bolstering of good governance, openness and transparency; strengthening our country's capacity in the on-rush of natural disasters; the huge upliftment of our people's practical sense of belonging to a magnificent component of our Caribbean civilisation; the deepening of regional integration; and the praxis of an efficacious foreign policy which delivers, material and non-material benefits, at unprecedented high levels.
In a strategic sense, our government has been pursuing since March 2001, continuously, the quest to build a modern, competitive, many-sided post-colonial economy which is at once national, regional, and global. Programmatic pillars in the overall policy goals are evident in the sectors of agriculture, fisheries, tourism, manufacturing, and an assorted range of services such as medical education, air and sea transportation, banking and finance, and professional services. The private sector, the cooperative sector, and the State have all been productively active in these respects. Moreover, economic growth and fiscal consideration have been positive results.
Currently, the government has been actively pursuing a bundle of initiatives, including: Consolidating and expanding the Education, Health, and Housing Revolutions; elaborating the practical initiative on medical marijuana; upgrading the road infrastructure; the expanding of renewable energy (improving efficiency at hydro-electricity plants, starting-up of the Geothermal Project ($100 million), and building-out solar installments); construction, expansion, and imminent construction of hotels and apartments; construction and reconstruction of roads, bridges, sea and river defences ($150 million, phased projects); advancing concrete plans for a modern cargo port ($145 million), and the city at Arnos Vale including the anchor project of the Acute Referral Hospital ($50 million); construction of satellite warehouses for NEMO; the private sector and government initiatives in fishing, cocoa, and coffee; and the external private sector's proposal for a significantly-sized call centre. Meanwhile, the Eastern Caribbean Central Bank again forecasts modest economic growth in 2018 for St. Vincent and the Grenadines; and as at the end of September 2018 the fiscal outturn of the central government's finances has improved with modest current account and primary surpluses and a small overall surplus.
Amidst all these positive developments, a tiny minority of persons ___ mainly young men ___ have deliberately chosen to invest in violence and a kind of "armed entrepreneurialism" as a way of life.
In the process, innocent lives are cut down. The government and people of St. Vincent and the Grenadines are determined not to permit these selfish, violently-inclined individuals to damage in any way the peace and tranquility of our blessed country. On this we are resolved! Those who make excuses on their behalf or construct absurd rationales for their conduct are doing a disservice to our nation. In St. Vincent and the Grenadines, there is absolutely no reason for anyone to turn to violent crime; no space is to be allowed them for their criminal activities. The society does not make a violent criminal; he or she makes himself one!
I congratulate, and thank, all Vincentians who have been striving for excellence and who have been contributing to the wholesome development of our country. They are, by far, the vast majority of our people. We have been making solid progress. Let us build upon these efforts, despite the extant challenges. Vincentians of all walks of life can look forward to their future with optimism. Opportunities abound; take advantage of them.
Happy Independence 2018