Posted on
Breakaway Masters buoyed by Best of SVG Award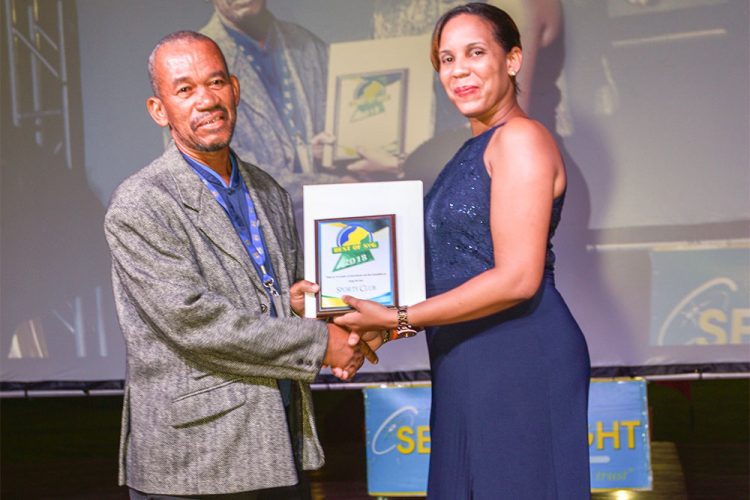 BEING VOTED AS the Best Sports Club at the 2018 Interactive Media's Best of SVG Awards, is the proudest moment of the Breakaway Masters Organization.
Still excited by the accolade, President of the Breakaway Masters Organization told SEARCHLIGHT, "It is our proudest moment since the organization got started in 2006".
Dopwell noted that since bestowed with the award, his organization has been lifted.
"It has made a great impact on our organization… It has helped to enhance our organization… The award has shown that our works are not in vain… We are doing something in the interest of people and sports here in St Vincent and the Grenadines and that there are persons out there, who are looking at us and recognize the contribution that we are making," Dopwell said.
Dopwell added that the award helped the organization's profile.
"Since we received the award, it has enabled us to put on two additional divisions; the women's and the Under-19, as people are looking more towards us and wanting to be associated with us," Dopwell related.
Dopwell's sentiments were supported by vice-president of the Breakaway Masters Organization Kenville Fredericks.
Equally buoyed by the recognition, Fredericks said that the continuous reminder by members of the general public, that they have been voted as the Best Sports Club, as a fillip to strive for excellence.
Taking a philosophical look at the organization's operations, Fredericks quipped: "We cannot do more than what we are doing, but what we do, we do it at our best".
The 12-year-old Breakaway Masters Organization, which was primarily a football team that contested the annual masters' football competition, in 2011 introduced a firms' football tournament, hosted at the Grammar School Playing Field.
Starting with the firms division, the tournament then saw the introduction of a youth division in 2014. The latest edition in 2018, an Under-19 and women's divisions were added to the fold.
Last year's tournament also had an innovative knock out format, with the team scoring the first goal, advancing to the next phase. Similarly, in a nil-nil tie, the match was decided by sudden death penalty kick.
Noting that the format was done in the interest of time, Dopwell claimed, "We are always trying to better our competitions, hence the reason that we had a knock out competition with a difference".
Dopwell vouched to work harder to serve the football loving public and St Vincent and the Grenadines as a whole.
"We are also proud that we are helping, not only with football development, but with the academic progress of the nation's youths", Dopwell commented.
In 2017, the Breakaway Masters Organization began its Educational Assistance Fund, with one recipient.
Two persons were able to gain help from the fund in 2018.
Dopwell thanked all who have been supportive of the Breakaway Masters Organization over its period of existence and reiterated his signature slogan: "We are glad to have you".