Posted on
Best Braider known by her unique braiding technique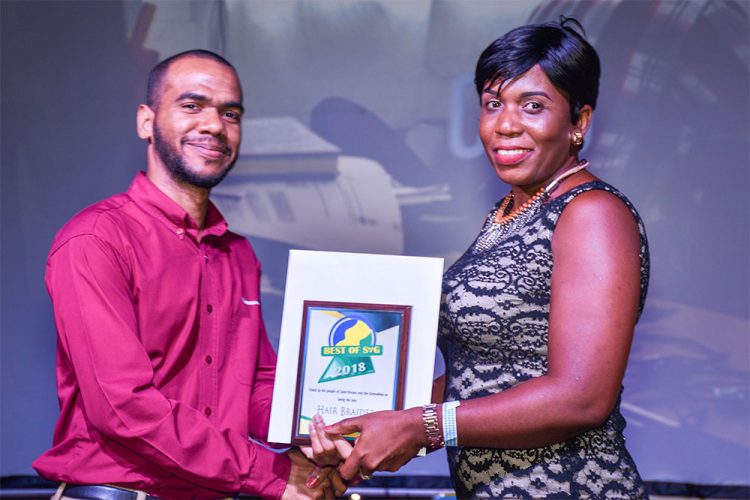 Tannie Thomas' skill for braiding has afforded her the opportunity to build a business that enables her to educate her children.
The Gorse resident and mother of three was voted best Braider in this year's Interactive Media's Best of SVG Awards; a title she was not expecting to earn.
"I was very excited to be honest. I was not expecting it, but I was excited. It has helped me because some persons would have seen the picture on Facebook and I mean, some people would approach and ask me, I find I got more clients since that," she told SEARCHLIGHT in a recent interview.
Like many entrepreneurs, Thomas said that her business started out as a hobby over 15 years ago.
And her talent for braiding doesn't come from any kind of formal training, but rather years of practicing in her dolls' hair as a little girl and later on, videos from YouTube.
"I like to do the Nigerian, the box braid, the twist. I find when I do the Nigerian, I usually do it like very neat, but if the client wants like medium sized or large or whatever, I do it to suit them," Thomas said. "I think my braiding is just unique. Persons would tell me sometimes that they can just watch a person and know that I did that. It's like they don't even have to ask so probably its just the way that I do it."
In addition to Nigerian style braiding, box braids and rope twists, Thomas also offers crochet braids and other types of braiding styles as well as weaving.
She also encourages people in this country who have specific skills to develop on it because it can lead to gainful employment.
"I have three children and this has helped me because my first daughter is in form five. This has helped me to send her to school from primary right up to secondary and my other two are still in primary school and that is what is helping me to send them to school," the braider said.
Thomas added that in addition to developing skills, persons should ensure that they execute the job to the best of their ability.
The braider operates out of her home at Gorse but she also makes house calls. She may be contacted via WhatsApp or phone call at 1(784) 430-3325.