Posted on
Being voted Best of SVG boosted my self-confidence – John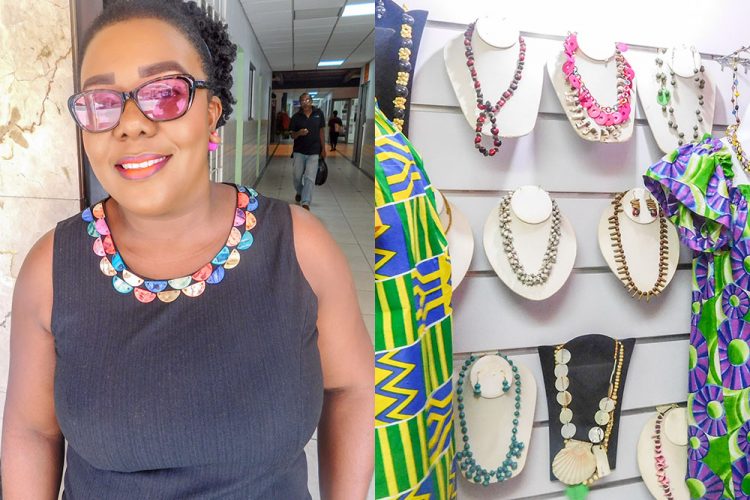 In a tiny nook, located in Kenmars Mall, a vibrant multicoloured necklace made of wooden beads hangs elegantly on a black velvet form.
Above the necklace, hangs colourful sea fan earrings and to its far left, hangs another necklace made from a black chord with seashell pendant.
These items, along with many other attractive jewelry pieces are sold at Natural Beats, the store which copped the Best Jewelry (locally made) category in this year's Interactive Media's Best of SVG Awards.
Store owner and jewelry designer, Ingrid John said that Natural Beats has been around for 14 years, and has been a registered business for 13 of those years.
"Natural Beats is a name by itself. The name itself says a lot about the products…we keep our products unique and very natural," John said. "Some of the natural products we use are coconut shells, bamboo, our famous velvet seeds which are grown in the botanical gardens and fish scales, sea fans, mango seed, sea shells."
The entrepreneur said that when her business first started out, she taught herself how to make jewelry. But since then, she has received training through the OECS and has had the opportunity to work with one of the best jewelry designers from Guadeloupe.
John also said she will do custom designs for clients but she does not copy anyone else's work because she likes to keep her designs original.
And she said that it was a great feeling to know that her business could be voted number one in a Best of SVG category.
"That has boosted my self-confidence a lot and it has brought a lot of customers to natural beats and to visit our Facebook and Instagram page," John said. "I know I have the capability and I know I'm number one because I'm always rated as the best and when you're at the top, you stay at the top and it was a great feeling and I just want to thank all the people of St Vincent and the Grenadines."
The business owner also expressed gratitude to all her customers for supporting her through the years and helping to make her into the person and businesswoman that she is today.
I would like to thank all my customers for supporting me throughout the years and for making me the person that I am today because without them, there is no me. I will like to thank god for strength and for favour throughout all these years.
In addition to jewellery, John also makes clothing including African wear, clutches and natural snack products.
She can be contacted via Facebook; Natural Beats St Vincent, on Instagram; @naturalbeats.svg and via WhatsApp at 1(784) 531 – 1687.