Posted on
Pizza pull apart Christmas tree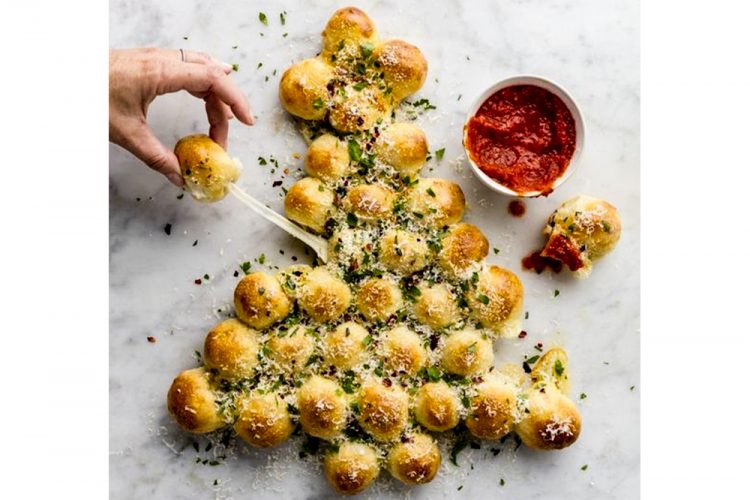 It's almost that time again. Before you know it Christmas parties will be everywhere. If you are planning to have one yourself, this is a beautiful and tasty addition to the menu.
You will need:
1 lb. refrigerated pizza dough (or homemade)
Egg wash (1 egg whisked with 1 tbsp water)
7 mozzarella sticks or the equivalent in cubed mozzarella
1/ 4 cup melted butter
1/ 2 cup finely grated Parmesan
1 tbsp thinly sliced basil
1 tbsp chopped parsley
1 tbsp chopped rosemary
Marinara, spaghetti or pizza sauce, warmed (for serving)
Method:
Preheat oven to 450°. Line a large baking sheet with parchment paper. Cut mozzarella sticks or block into 1" pieces and set aside. On a floured surface, divide pizza dough into two pieces. Stretch and roll each piece of dough into a long rectangle, then cut dough into 2" squares (you'll need 33 total). Wrap a dough square around each piece of mozzarella, forming a tightly sealed ball. Place balls seam-side down on the baking sheet in the shape of a Christmas tree (they should be touching). Brush egg wash on dough balls and bake until golden, 15 to 20 minutes.
Meanwhile, whisk together melted butter, Parmesan and herbs. Brush on baked pizza balls. Serve warm with marinara for dipping.
Tips: Feel free to add your favorite meat inside the balls as well. It can be a little peperoni, ham and pineapple or even ground beef.