Posted on
Blueberry Streusel Cake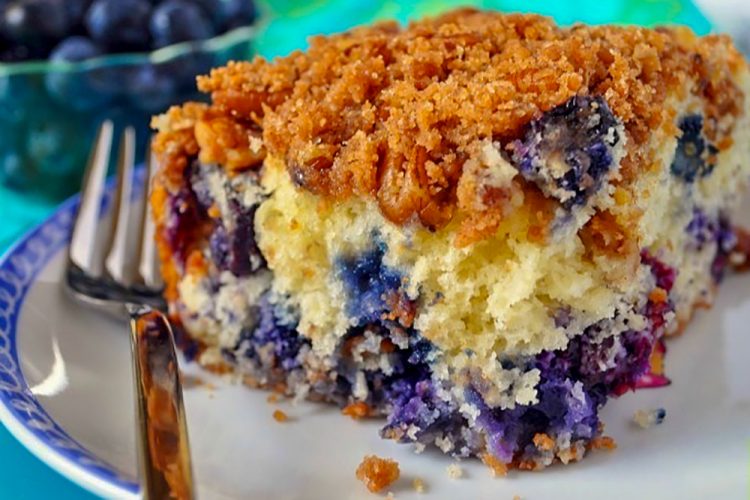 You will need:
1 cup all-purpose flour
1 1/ 2 teaspoons baking powder
1/ 2 cup sugar
1/ 2 cup skim milk
1 egg
2 tablespoons canola oil
1 cup fresh or frozen blueberries (if using frozen, thaw and drain before use)
Streusel Topping (recipe follows)
For the streusel topping:
2/ 3 cup white sugar
1/ 2 cup all-purpose flour
2 teaspoons ground cinnamon
1 teaspoon vanilla extract
3 tablespoons butter, softened
1/ 2 cup chopped pecans (optional)
Method:
For the cake:
Preheat oven 375°F. Coat 9x9x2-inch square pan by rubbing lard or oil then dusting with flour. In bowl, mix together flour, baking powder, sugar, milk and egg. Stir in oil and blueberries, only until mixed. Sprinkle 1/ 2 cup reserved Streusel Topping (see recipe) on bottom of pan. Carefully spread cake mixture on top. Cover with remaining reserved Streusel Pecan Topping. Bake 20-25 minutes or until toothpick inserted in middle comes out dry.
For the streusel topping:
In small bowl, mix together sugar, brown sugar, flour and cinnamon.
Cut in vanilla and butter using pastry blender or fork. Reserve 1/ 2 cup topping and add pecans to remaining topping.
Tips: Most supermarkets sell small packets of frozen blueberries at very affordable prices.