Posted on
Tuna Casserole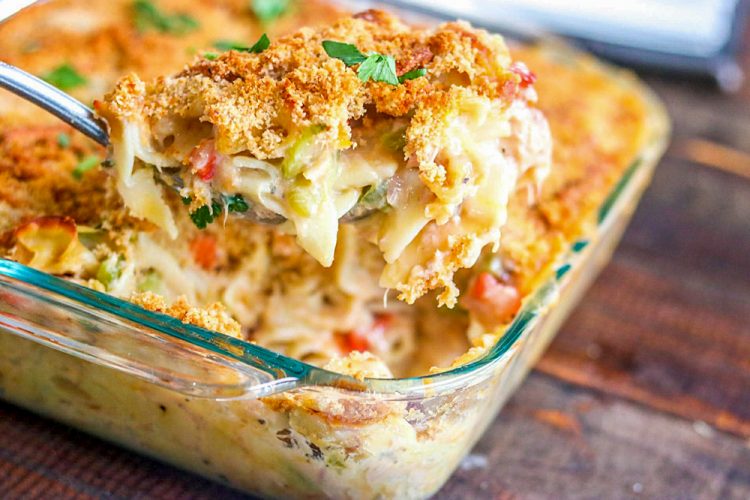 The first time I had this dish I was very skeptical, but I am so glad I did, because it is absolutely delicious. Give it a try, you won't be disappointed.
You will need:
12 ounces noodles
3 tablespoons butter
1/ 2 onion diced
3 cloves garlic minced
3 tablespoons flour
2 cups chicken broth (home made or store bought)
1 cup milk
1 cup mixed vegetebles (optional)
2 6 ounce cans solid white tuna
2 cups shredded cheddar cheese
1 cup bread crumbs
1/ 4 cup grated parmesan cheese
2 teaspoons oil
Method:
Preheat oven to 400 degrees and lightly grease a 9×13 pan. Cook the noodles according to the package directions. Drain and add pasta to prepared pan. Meanwhile, melt butter in a medium-sized saucepan over medium heat. Add in onion and saute 5 to 7 minutes, until softened. Stir in garlic and flour and cook 1 minute. Slowly pour in chicken broth and milk and bring to a simmer, stirring constantly. Once mixture has thickened, stir in peas, and tuna. Pour over pasta in the 9×13 pan. Add in cheddar cheese and toss to coat. In a small bowl, use a fork to mix together bread crumbs, parmesan, and oil. Sprinkle over the pasta. Bake in the preheated oven, uncovered, for 15 to 20 minutes, until bread crumbs are lightly browned. Serve hot.