Posted on
Shrimp Alfredo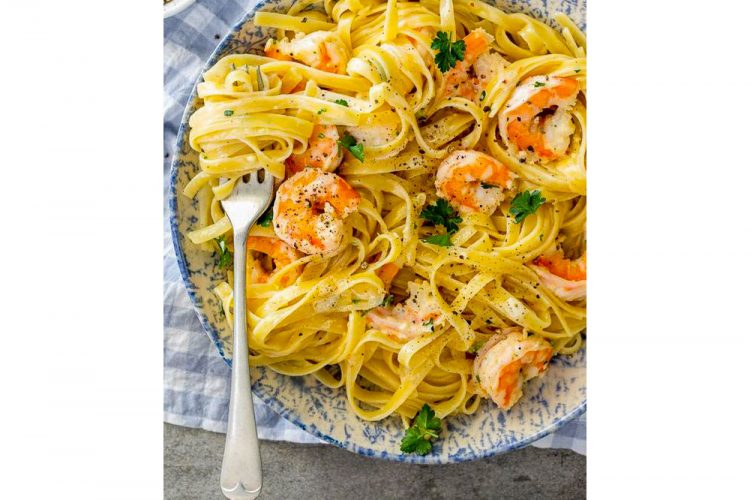 So just a few weeks ago my family decided to have a seafood night and we all bought packs of shrimp (at quite an affordable price at Massy, I might add) and made this very same dish. It was utterly delicious. Give it a try, you won't be disappointed.
You will need:
For the pasta:
8 ounces fettucini (not overcooked)

For the shrimp:
10-12 jumbo shrimp (or half pack of medium sized shrimp shelled)
1 tablespoon olive oil
2 tablespoons butter
2 cloves garlic (minced)
2 tablespoons chopped fresh chives
salt and pepper to taste
1 small onion grated
1 teaspoon paprika (optional)
Dash of dried red chilli flakes (optinal)
For the alfredo sauce
2 cups full cream milk
1/4 cup butter
1 1/ 2 – 2 cups mild cheddar grated
1/8 teaspoon ground black pepper optional
1 teaspoon minced garlic
Method:
Make the shrimp:
Melt butter and heat oil over medium high heat in a pan. Add in remaining ingredients and cook shrimp until pink on all sides, about 6-8 minutes. Set aside.
Make the alfredo:
While the shrimp is cooking, start the alfredo sauce. In a heavy bottomed skillet, heat the milk and butter over medium low heat until the butter is melted. Add the cheese to the sauce a few tablespoons at a time, stirring between each addition so that the cheese melts evenly. Be sure not to add the cheese too quickly. Take your time and add it slowly, stirring constantly! After all the cheese is added, stir in the remaining ingredients, stirring over low heat for 1 minute. Remove the skillet from the heat. In a large pan mix together the cooked fettuccine, alfredo sauce and top with shrimp mixture.
Serve immediately.
Tip: Feel free to avoid all the work and buy the alfredo sauce instead.