Posted on
Chicken Lasanga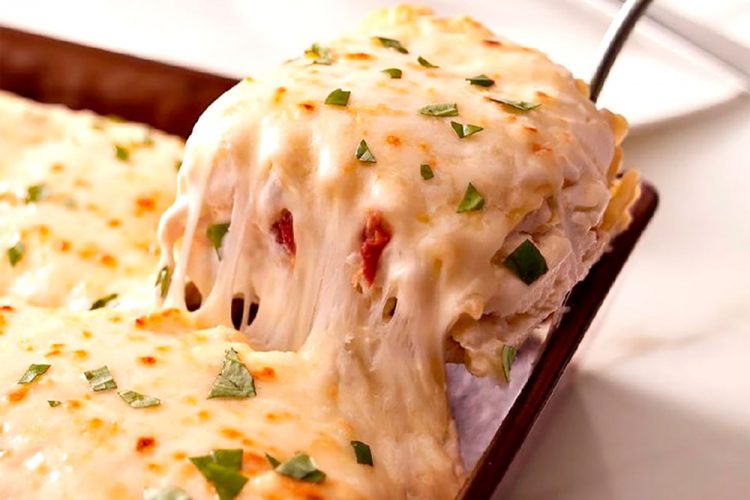 Tired of your regular tomato-based lasagnas, then this is the recipe for you.
You will need:
2 cups shredded cooked chicken breasts
1 pk (8 oz) Shredded Mozzarella Cheese
1/2 cup Parmesan Cheese
1/2 cup chopped drained oil-packed sun dried tomatoes
2 pks ( 8 oz. each) Cream cheese, softened
1 cup milk
1/2 tsp garlic powder
1/4 cup tightly packed fresh basil, chopped, divided
12 lasagna noodles, cooked
Method.
Heat oven to 350F. Combine chicken, 1 cup mozzarella, parmesan and tomatoes. Beat cream cheese, milk and garlic powder with mixer until blended; stir in 2 tbsp basil. Reserve half; mix remaining half with the chicken mixture.
Spread half of the remaining cream cheese mixture into bottom of 13×9" baking dish; cover with 3 noodles and 1/3 of the chicken mixture. Repeat layers of noodles and chicken mixture twice. Top with remaining noodles, cream cheese mixture and mozzarella; cover.
Bake 25 minutes or until heated through. Sprinkle with remaining basil. Let stand 5 min. before cutting to serve.
Tip – When I don't have any chicken breast, I simply use minced chicken in the pack. I simply season it and cook, making sure that all the water has dried out.
As for the tomatoes, I never use them, so if your dish doesn't have them the flavour will not be altered.