Posted on
Cheesy Chicken Fritters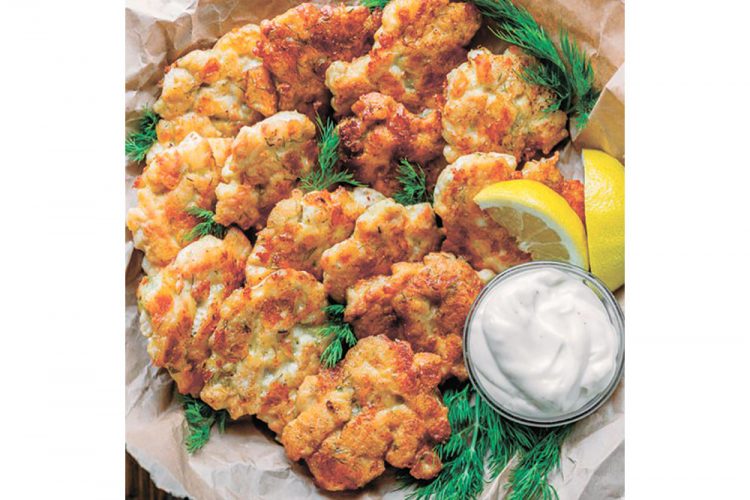 I'm not going to lie, I had my reservations when I was making this recipe, mainly due to the fact that I had to put mayonnaise before I fried it. I went brave and I'm so glad I did. It was delicious and the family enjoyed it. Give it a try… you'll see.
You will need:
1 1/2 lbs chicken (3 large chicken breasts) cut into small cubes
2 large eggs
1 tbsp green seasoning
1/3 cup mayonnaise
1/3 cup all-purpose flour
4 oz (or 1 1/3 cups shredded) mozzarella cheese
1 1/2 tbsp chopped fresh dill (optional)
1/2 tsp salt and 1/8 tsp black pepper, or to taste
Oil for frying
Garlic Aioli Dip
1/3 cup mayonnaise
1 garlic clove, pressed
1/2 tbsp lemon juice
1/4 tsp salt
1/8 tsp black pepper
Method.
Place chicken in a large mixing bowl with remaining batter ingredients. Stir the mixture until well combined, cover with plastic wrap and refrigerate 2 hours, or overnight. Heat a large frying pan over medium heat and add oil. When oil is hot, add the chicken mixture a heaping tablespoon at a time. Slightly flatten out the tops with the back of your spoon and fry uncovered 3-4 minutes on the first side, then flip and fry 3 minutes on the second side or until outsides are golden brown and chicken is fully cooked through. To make the aioli (if using), combine all ingredients in a small bowl, or measuring cup and stir together until smooth.
Tips: Any chicken parts can be used once it's deboned. If your chicken is already seasoned then omit the green seasoning. I reduced the cheese to 1 cup and I mixed half mozzarella and half mild cheddar. Add the salt last, in the event that It doesn't need it.