Posted on
As Caribbean as Coconut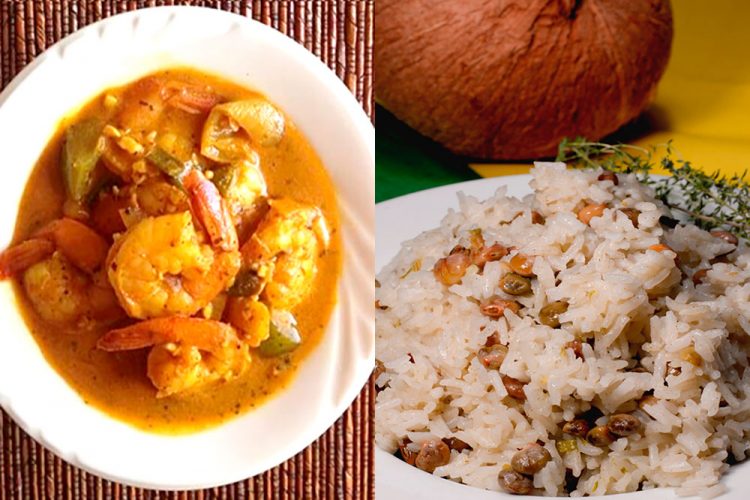 I tried both dishes the other day and I was greatly surprised at the flavour. Although I am not accustomed to cooking with coconut milk, I must admit I'm in love with it.
Coconut Curry Shrimp
You will need:
1 lb. shrimp
1 green pepper (chopped)
1 onion (chopped)
3 cloves of garlic (minced)
1 sprig of chive (minced)
2 tablespoons coconut oil
4 teaspoons curry powder (divided)
1 teaspoon sea salt and black pepper (for shrimp) and 1 teaspoon salt and black pepper (for sauce)
1 teaspoon thyme
1 whole flavour pepper (pimento)
1 tablespoon ketchup paste
1 cup of coconut milk (I use the powder and mix with water)
1/ 4 cup of water
Method:
In a large mixing bowl, season shrimp with salt, black pepper, 2 tsp. curry powder and thyme and let sit for a few minutes. Heat oil on medium-high heat in a skillet and saute peppers, onion, chive and garlic until onion is transparent. Add coconut milk, water, ketchup, and 2 tsp. of curry powder. Add in the shrimp and whole flavour pepper and cook for about 3-5 minutes until the shrimp is pink. Lower heat and simmer for another 3-5 minutes until curry sauce thickens. Add more sea salt and black pepper to taste and serve hot.
Tips: Small strips of chicken, pork or beef can be used as well. You can add a little green seasoning to the meat if you wish.