Posted on
Classic Spritz Cookies (Butter Cookies)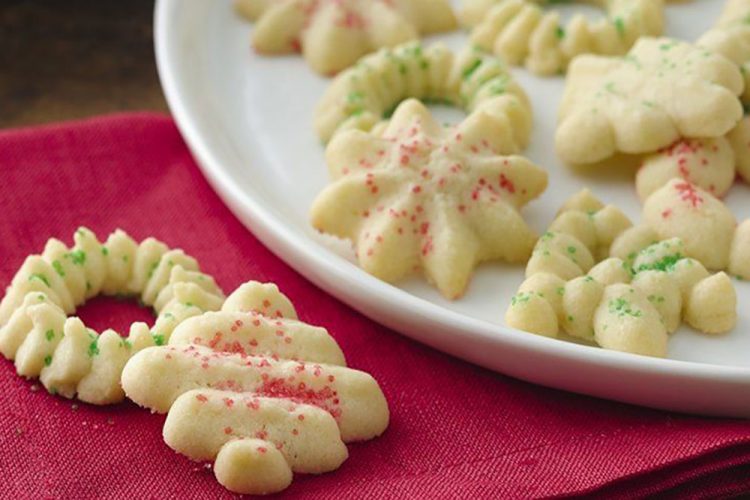 I bought a cookie press a few years back and it had the most amazing cookie recipe on the back. They remind me of the cookies we have at Christmas in the blue tin, yes, they are that good. You don't have to take my word for it, give it a try.
You will need:
1/ 2 teaspoon almond extract
1 teaspoon vanilla extract
3 1/ 2 cups all-purpose flour
1 teaspoon baking powder
1 1/ 2 cups butter (softened)
1 cup sugar
1 egg
2 tablespoons milk
Method:
Preheat oven to 350º. In bowl, combine flour and baking powder. In large bowl, beat butter and sugar with electric mixer until light and fluffy. Add egg, milk, vanilla and almond extract; mix well. Gradually add flour mixture to butter mixture; beat until combined. There are a few different techniques you can use. If you have a cookie press then do not chill the dough. Fill cookie press with dough and with desired disks, press cookies onto ungreased cookie sheet. If you want you can put it in a piping bag with a large star tip and squeeze dough out into swirls or stars. You can also roll out the dough between 2 pieces of wax paper and refrigerate for about 30 minutes or so. Remove the top wax paper and press out the cookies as you wish. Repeat the rolling and refrigerating process with the remaining dough. Bake 10-12 minutes or until edges are light golden brown. Cool 2 minutes on cookie sheet on cooling rack. Remove from sheet; cool completely.
Tips: It makes a large batch so feel free to cut it in half.