Posted on
Coconut Slice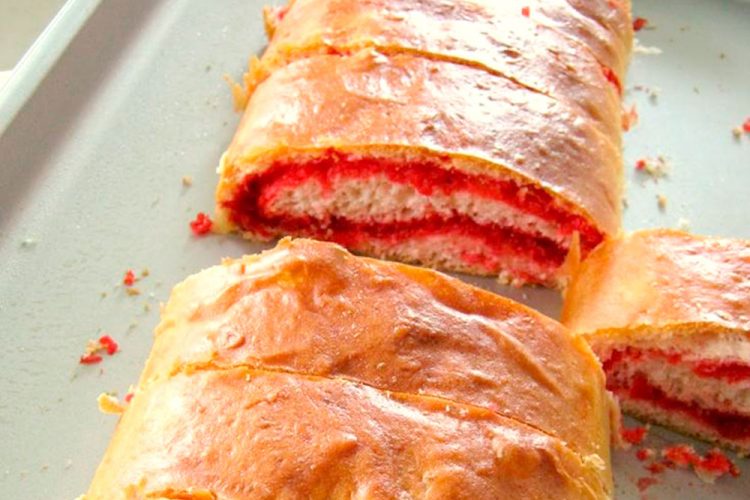 You will need:
1 tbsp dry yeast
1/4 cup warm water
1/4cup sugar
1 cup milk
1/4 cup shortening
1 tsp salt
3 cups flour
1 egg, beaten
1 tbsp butter
1 egg white
Filling
1/4 cup sugar
1 cup shredded coconut (sweetened)
1 tsp cinnamon
1 tsp vanilla essence
2 tbsp water
5 drops of red food coloring (or until it gets to the deep red that you want)
Method: Dissolve the yeast in warm water. Sprinkle with 1 teaspoon of sugar. Mix and let stand.
Warm the milk then set aside. Combine the salt and sugar with the flour, cut shortening into the flour mixture then add the yeast, and egg.
Pour the milk in and knead to make moderately stiff dough. Shape into a ball. Place the dough in a greased bowl, cover with aluminum foil; let rise to double in size for about 1 hour. Combine all the filling ingredients and set aside.
Punch down the dough and divide in half. Roll each half into a 12 inch x 8 inch rectangle, and brush with melted butter. Sprinkle half of the filling mixture on each rectangle of dough.
Roll up lengthwise and seal the edges. Cover and let rise until double in size.
Brush the rolls with beaten egg white. Bake at 350° for 20 – 30 minutes. Until the tops are brown. Cut into slices and serve. Yields 2 rolls.
Tips: If you are using regular unsweetened coconut, you will need to add more sugar and water and cook with all the ingredients until it becomes thicker and transparent. Let cool then place in dough and follow instructions from there.