Posted on
In Memoriam – Trevor Edwards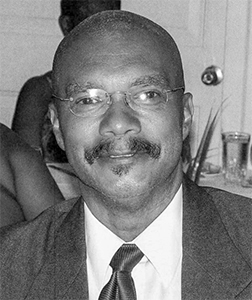 Remembering
Trevor Edwards
Trevor, lately you have been on my mind
You were a close friend
One of a special kind
I remember how well you took care of Arthur, your brother
Considerate, caring, loving, like a mother.
One will never forget the way you danced and sang at funerals and weddings.
Your haughty laughter that lingers on long, long after.
Trevor, you will be surely missed by all
Especially the Kingstown Chorale
My sister Pat Clouden, Joan Dellemore, your brother Clifford, and John Horne singing group called the Flame.
Memories of all of you in our thoughts will always remain.
There are so many people who are very fond of you.
I'll take this opportunity to mention a few – Hyacinth Hadley John, Patricia (Pat) Clouden, Helena Ollivierre Williams, Angela Gonsalves Browne, Amy Francis, Jeanette Bowman Linley, and of course me, Sylvia Clouden DeFreitas, will always remember you.
So – so long our good friend as you are now heaven sent
May you rest in peace
Till we meet again.
Amen and Amen.
Sincerely,
Sylvia Clouden DeFreitas