Posted on
Acknowledgement – Mrs. Ruth Alexandrina Naomi Cyrus Neé Latchman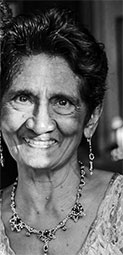 The family of the late
Mrs. Ruth Alexandrina Naomi Cyrus Neé Latchman
of Park Hill and Walker Piece, New Montrose
who departed this earthly life on
19th, September 2018
would like to express sincere thanks and appreciation to the many persons for their prayers, calls, cards, wreaths, flowers and to all who attended the funeral. Thanks also for your kind words of sympathy, support and love shown to us during this time of our bereavement. May God bless you all
abundantly.
The Lord giveth and the Lord taketh.
Rest in eternal peace.
Mother, Sister, Friend.