Posted on
In Memoriam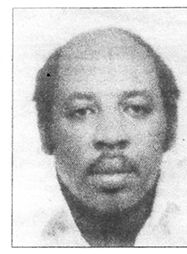 Alfred 'Vites' Herbert
In loving memory of our dear brother
Alfred 'Vites' Herbert of England, formerly of Kingstown
Sunrise: 07.01.1937 – Sunset: 06.01.2007
Do not stand at my grave and weep,
I am not there, I do not sleep.
I am a thousand winds that blow
I am the diamond glints on snow
I am the sunlight on ripened grain
I am the gentle autumn's rain.
When you awaken in the morning's hush
I am the swift uplifting rush
Of the quiet birds in circled flight.
I am the soft stars that shine at night
Do not stand at my grave and cry
I am not there, I did not die.
Every day in some small way
Memories of you come our way.
Though absent, you are always near,
Still missed, loved and always dear.
Lovingly remembered by his siblings Agnes, Hugh, Roslyn (USA), Lloyd (Norway), June, Irma (England);
nephews, nieces, great nephews, great nieces, great great nephews and great great nieces, in-laws, relatives and friends.
See you on that great morning.
Rest in Peace