Posted on
10 Health Threats for SVG for 2019!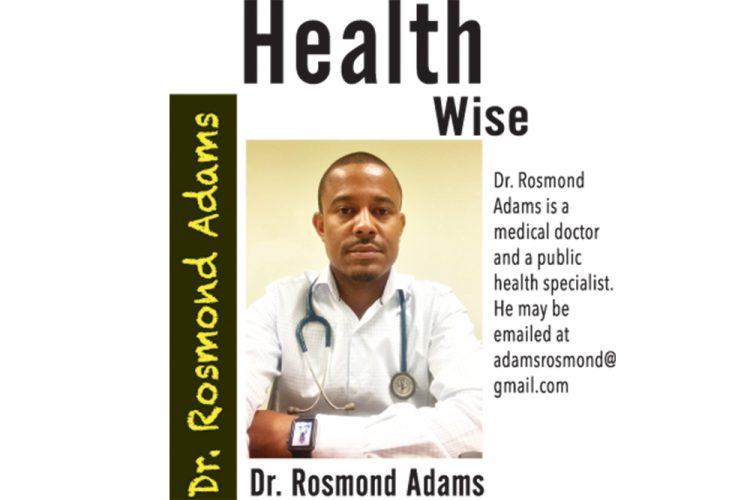 The World Health Organization announced a list of 10 health issues that will require attention in 2019.
Some have referred to them as health threats while others have referred to them as health challenges. Whatever they are called, these issues are real and pose significant challenge to public health not only at the global level but at the regional and national levels also. They possess the potential not only to disrupt health but to significantly undermine progress towards the Sustainable Development Goals (SDGs).
What do these issues look like for St Vincent and the Grenadines? This article will examine the ten issues and highlight the most critical points to be taken into consideration in the Vincentian context.
1. Air pollution and climate change: Climate change is a real phenomenon that Small Island Developing States like St. Vincent and the Grenadines will have to confront. The impact of climate change on health must be sufficiently examined and measures must be put in place to mitigate and to adapt to the impact of climate change.
2. Noncommunicable Diseases: We know that NCDs are the leading cause of premature mortality in the country. Diseases such as diabetes, cancer and heart conditions continue to plague our population. Action must be taken to scale up the response to NCDs with a focus on prevention and promotion and access to care.
3. Global Influenza pandemic: The world will face another influenza pandemic. We are living in a region where people travel to and from every day. The introduction of new stains can take place quickly. Flu can spread from one person to another easily and cause major outbreaks. It is recommended that influenza surveillance be put in place to monitor and detect what strains are circulating in the country and constant infection control and prevention messaging take place.
4. Fragile and vulnerable setting: Whilst this may not be a major issue for St. Vincent and the Grenadines when compared to countries in crisis, there are economically depresses persons who lack access to certain resources such as proper shelter, education, food and water. This makes them vulnerable to contract and spread diseases and have poor health outcome.
5. Antimicrobial Resistance: The issue of drug resistance can have dire consequences on health outcome. Antibiotics must be properly used, and all efforts must be taken to ensure that they are not overused both in human and animals. The country should ensure that the right line of antibiotics is available and that there are national guidelines to inform the proper use of these medication.
6. Ebola and other high-threat pathogens: Whilst Ebola may not mean much to us, we must remember that we now live in a world where communicable diseases travel rapidly. As such we must ensure that we have a health system that is able to detect and respond in a timely manner. Communicable disease surveillance and response must be strengthened.
7. Weak primary health care: Primary health care is the backbone of the health system in St. Vincent and the Grenadines. Through the network of clinics and polyclinics, primary care focus is to ensure that community health is maintained. Primary health care must be sufficiently staffed, accessible and offer a range of services that are informed by the community needs. Communities must also be encouraged to use the primary care system as the first step in accessing health acre.
8. Vaccine hesitancy: there is a growing reluctance and refusal to vaccine despite the availability of vaccines. Anti-vaccine movements are springing up in the country. All efforts must be taken to ensure that immunization coverage is maintained to prevent the spread of vaccine preventable diseases. Health authorities must also readily and effectively respond to anti vaccine groups.
9. Dengue: During the last five years the country encountered outbreaks of new mosquito borne diseases namely Chikungunya and Zika. However, Dengue continue to be present in the country with a very competent vector, the Aedes Aegypti mosquito. Dengue can be lethal and can kill up to 20% of those with severe dengue. The region is currently on alert for an outbreak. Again, surveillance must be strengthened, vector control measures put in place, and proper clinical guidelines implemented.
10. HIV: There has been significant progress with respect to HIV/AIDS in St. Vincent and the Grenadines. However, many factors threaten to reverse this. Strong and effective systems must be put in place to get people tested, treating them and ensuring that they are virally supresses. The gaps in the HIV continuum of care cascade must be narrowed or closed.
Let us work together to strengthen our health system so that we are prepared to respond to these challenges in 2019 and beyond.
Dr. Rosmond Adams, MD; MSc (Public Health); M.S (Bioethics) is a medical doctor and a public health specialist with training in bioethics and ethical issues in medicine, the life sciences and research. He is a lecturer of medical ethics and Research Methods.
He is the Head of Health Information, Communicable Disease and Emergency Response at the Caribbean Public Health Agency (CARPHA). He is also a member of the World Health Organization Global Coordination Mechanism on the Prevention and Control of NCDs.
(The views expressed here are that of the writer and not of any organizations). You may contact him at adamsrosmond@gmail.com