Posted on
Over US$29 million expected in world-wide lobby
UN launches global appeal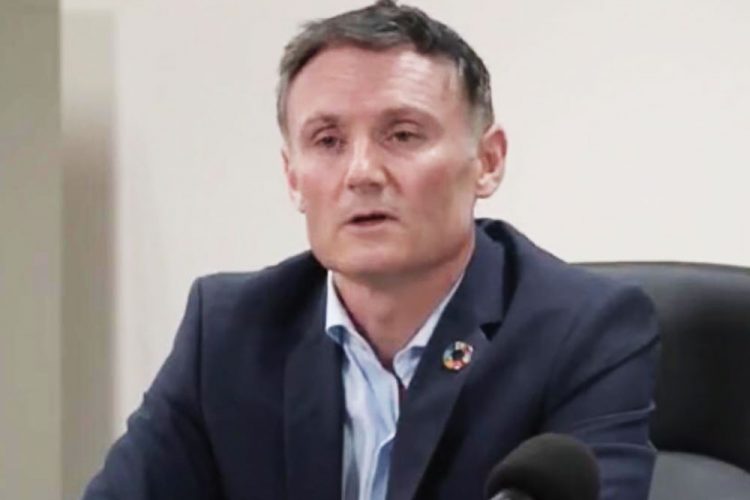 The United Nations launched a global appeal fund this week with the aim of raising over US$29 million to assist St Vincent and the Grenadines, which has been significantly impacted by ongoing eruptions of La Soufriere.
The official ceremony was held on Tuesday at Cabinet Room, and heard remarks from Didier Trebucq, the UN's resident coordinator for Barbados and the Eastern Caribbean states, and Prime Minister Dr Ralph Gonsalves.
"The widespread destruction caused by this event to your beautiful country and its courageous people will really forever be engraved in my mind. The devastating impact of this event on thousands of people is undeniable," Trebucq said in his remarks.
The resident coordinator visited red zone areas up to Sandy Bay on the Windward side of the island on Sunday, April 18 with the Prime Minister to assess the destruction caused by the eruptions.
He referred to the level of impact he witnessed as "apocalyptic" and "desolation".
"Greater international support is urgently needed. This will allow us to rapidly scale up our support to the government and the people of St Vincent to respond to this growing humanitarian crisis unfolding before our eyes. We have no time to lose as we have to prevent multiple crisis scenarios," Trebucq said of the global appeal fund.
The US$29.2 million expected to be raised through these efforts will assist in protecting the most vulnerable, displaced or affected people in SVG and neighbouring countries.
The resident coordinator said immediate humanitarian response was considered so as to provide time sensitive and lifesaving interventions, with an additional view to initiate recovery and rehabilitation.
He added that more funding will be necessary once an assessment is completed of the damage, losses and needs.
The UN's interventions are divided among eight sectors, the first of which is water, sanitation and hygiene.
Food security and livelihood through different modalities – food kits or cash vouchers, and shelter and housing are also on the list of considerations.
Trebucq said on Tuesday that these three sectors are major priorities in terms of the humanitarian response.
Two of five hospitals in SVG were impacted as a result of the volcanic eruption, putting more pressure on other areas of the local health system.
Strengthening the capacity in healthcare is the fourth sector listed for intervention.
Other areas being considered include the clean up of ashes, as it relates to necessary equipment, and addressing environmental health issues; the continuation of education; protection in terms of gender-based violence and child protection; logistics and the restoration of agriculture.
"I want to remind that St Vincent is a country that has very vibrant agricultural sector so that's a very important area for recovery," the resident coordinator said as he appealed for countries to come on board and show their solidarity to SVG and other affected countries through immediate contributions to the funding appeal.
Prime Minister Dr Ralph Gonsalves said on Tuesday that persons evacuated from the red or hazard zone may not be able to return to those areas for some time.
Currently, there are over 12,000 people from the northern one third of the country either in 88 shelters run by government or private homes.
"The issues really here are matters which we just cannot handle by ourselves. We are a small island developing state…we have been the victims of climate change and we don't produce the greenhouse gases that have come to us from the outside. We didn't bring COVID, COVID didn't originate here, but we have to address it and we have been addressing it for the past year and a bit," Gonsalves said.
The Prime Minister described the uncertainty facing the country as troubling and disturbing, particularly when it is considered that the eruption can last for months.
Citing figures from a preliminary disaster resilience analytics and solutions presentation prepared by the World Bank, Gonsalves said total built assets in the volcanic hazard zones are estimated at US$387 million.
In the red zone alone, the replacement value of residential buildings are estimated at US$64 million and non-residential buildings at US$106 million.
Infrastructure at risk in these zones and which Gonsalves said has been damaged, are estimated at US$83 million.
He noted that these figures are in addition to the economic loss and immediate humanitarian concerns of the country.
Gonsalves said that SVG, "a small country with limited resources, with a resilient and hardworking people, magnificent examples of our Caribbean civilisation, a thriving democracy, lifting our living standards and human development index, we have been set back decades…so we need your help".