Posted on
New regulations put the squeeze on Minibus operators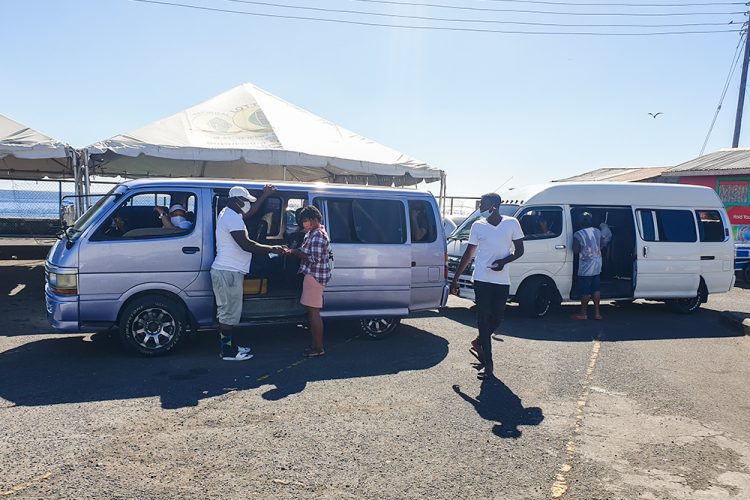 Minibus operators are feeling the pinch brought on by new the regulations governing public transportation introduced to stem the spread of coronavirus.
On Friday, February 1, minister of health St Clair "Jimmy" Prince announced that St Vincent and the Grenadines (SVG) is now considered as having community spread of the coronavirus, causing public health officials to mandate that minivans carry only half of the passengers that they are license to transport.
"I have to pay license, insurance and I licensed to carry 18 passengers and can only now carry nine," Samuel Duke told SEARCHLIGHT from the minibus terminal on Monday.
Duke, like the three other van drivers SEARCHLIGHT spoke to, said the period since the pandemic began affecting SVG last year has been the hardest he has experienced in his four years of operating minivans.
He said he understands the seriousness of Covid-19 but is wondering if something better cannot be done in relation to transporting passengers and allowing minivan operators to ply their trade in a less financially unfriendly environment.
Another van driver who goes by the name "Roy-E" traverses the Barrouallie route and notes that travelling this distance with half the usual number of passengers is difficult.
He opined that the mandatory wearing of masks, hand sanitizing and vehicle sanitizing after every trip should be enough to allow minivan operators to carry their full complement of passengers.
Roy-E also has been operating a minivan for four years and says he finds it hard to run the business during the pandemic.
He notes that minivan operators throughout the length and breadth of the island have the same complaint.
"It's very heart wrenching. When you look at the stimulus package that they give the last time, it wasn't satisfactory, but we still try to work along with it," Oswin Nero, a minivan operator of 10 years said.
He added that with the community spread of Covid-19, they have to operate under the same rules, but with no stimulus.
"If you running a van from Barrouallie and you can say, roughly, only make 10 trip a day, at four dollars with seven passengers, that's 28 dollars a trip…what sense does it make? It doesn't make any sense," Nero said, while adding that petrol for the vehicle can easily take back the day's earnings.
"The maths ain't adding up and people ain't seeing that. They should bring a stimulus package or make everybody wear mask and sanitize the van them every trip…everybody wear mask and work along with it," Nero commented.
"Since I working van this is one of the most hardest times," he added.
Another minivan operator who did not want to give his name said that some drivers and conductors are breaking the protocols and filling the vans.
He said he will not take that risk as he has seen police patrols pull over persons and he does not want to go through that.
"While I will not do that, I understand why persons are doing it. It hard out here right now so people trying to make ends meet," he noted.
On Friday, February 5, Government gazette Statutory Rule and Order No. 4 of 2021-Public Health (COVID-19) Rules 2021, which gives the police the power to ticket persons who act contrary to these rules.
A person who drives or rides in a public service vehicle without a face mask, "fitted to his face so as to cover his nose, mouth and chin" can be fined $100.
Drivers can also be fined $100 if they drive a public service vehicle which is carrying a passenger who is not wearing a face mask. The driver will also be fined $100 if their vehicle carries more than 50 per cent of the persons for which the vehicle is registered and licensed to carry.