Posted on
Two considerations guiding PM's decision about taking Covid vaccine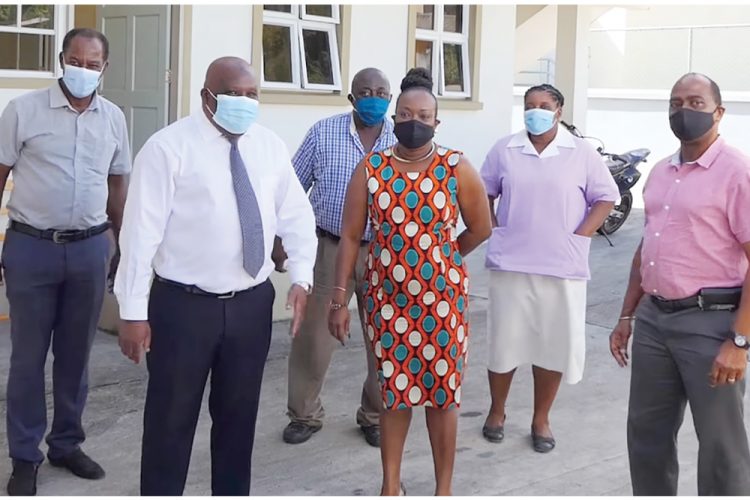 by BRIA KING
PRIME MINISTER Dr Ralph Gonsalves is contemplating taking the Russian Sputnik V COVID-19 vaccine.
And he may make his decision as soon as today.

Five local frontline workers, including infectious disease specialist Dr Jerrol Thompson, medical officer of health Dr Roger Duncan, health disaster coordinator Donna Bascombe and registrar, community health services, Dr Franklyn James were on Monday, February 1 the first to take the COVID-19 vaccine in St Vincent and the Grenadines (SVG).
This was made possible through the donation of 40 doses of the Russian developed vaccine.
"I am pondering myself to take it," Gonsalves said in Parliament yesterday as he made his contribution to the 2021 Budget debate.
The prime minister said there are two things that he is considering in making his decision.
"My first instinct was not to take it because I don't want it to be said that 20 vaccines came from the Sputnik, that Ralph gone and put himself in the queue, even though, given my age, I would be one who would be among persons who may be considered should take," the 74-year-old told Parliament.
Chief medical officer Dr Simone Keizer-Beache, in an interview with SEARCHLIGHT in December, said health authorities had identified priority groups in anticipation of receiving vaccines from the COVAX facility.
Keizer-Beache said these groups included frontline healthcare workers, persons with pre-existing conditions such as diabetes and hypertension, which makes them more vulnerable and persons over 65 years of age.
There have been mixed responses locally relating to receiving any of the COVID-19 vaccines that have been formulated. Many have taken to social media to share their views and while some are willing to be vaccinated, others have expressed scepticism, with some expressing that the vaccine was developed too quickly and could be harmful.
Since the inoculation of the frontline workers this week, some citizens have called for the Prime Minister to be vaccinated to engender trust among the population.
Gonsalves said yesterday that this is the second thing that he is considering in helping him make his decision.
"I've discussed it and a couple of journalists told me that the feedback which they are getting is that they would only take the vaccine, Russian or any other one – he said 'Dr Thompson can tek it. I want to see the Comrade tek it. When the Comrade tek it, well I will know I could tek it'," he said.
The prime minister said "I've been giving it prayerful consideration and I will sleep on it tonight again and if tomorrow morning (today, Friday), it comes to me that I should take it, in a positive sign, I will take it because I understand that persons want to see the Prime Minister take the vaccine".
The COVID-19 vaccine is usually administered in two doses. The 40 doses of the Sputnik V that were donated to SVG will allow for 20 persons to be inoculated in the first instance.
But Gonsalves noted that SVG will receive a further donation from an intermediary source of the Russian developed vaccine for 3000 persons.
It was also announced this week that SVG will receive its first tranche of vaccines from the COVAX facility sometime this
month.
A total of 45,600 Astra-Zeneca vaccines have been allocated to this country through the facility for 20 per cent of the population.
Vaccination for COVID-19 in SVG is voluntary.
Other arrangements are also being explored for SVG to receive COVID-19 vaccines through various sources to allow for more persons outside of the initial 20 per cent to be vaccinated.
During the Budget Address on Monday, minister of finance Camillo Gonsalves said the Executive Board of the ALBA bank has announced plans to provide US$200,000 to each country in the Organisation of Eastern Caribbean States (OECS) to purchase vaccines and there will be an additional US$1 million rotating fund for the purchase of additional vaccines for ALBA members.
Also, the Republic of China (Taiwan) has put aside US$600,000 in grant for this purpose and the Mustique Company/Mustique Charitable Trust has also offered to provide at least $1 million to acquire 100,000 doses of the Astra Zeneca vaccine.
Even as the Prime Minister contemplates being vaccinated, at least one Caribbean leader has already taken the vaccine.
Barbados' Prime Minister, Mia Mottley spoke about receiving her first dose of a COVID-19 vaccine during a press conference held on January 14.