Posted on
They killed my son like a dog – Tisheca Belgreaves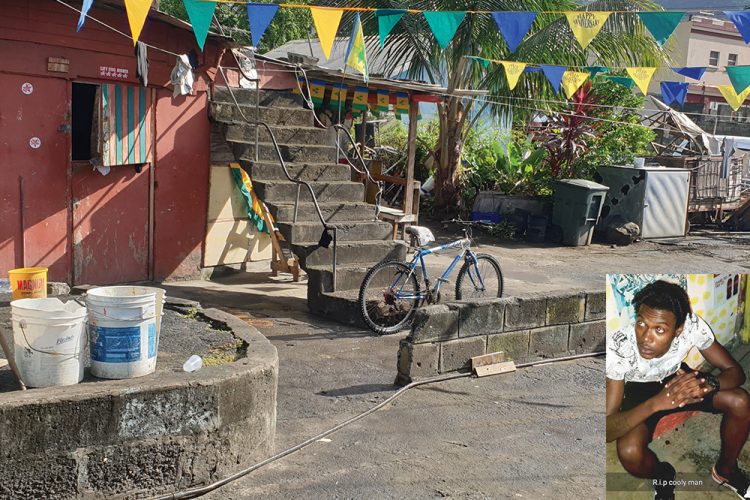 A 19-year-old father of two is this country's 25th homicide for 2020.
"They kill him like a dog and he just 19 years old," Tisheca Belgreaves said in response to one of SEARCHLIGHT's questions on Wednesday, while standing in her yard at Rose Place.
Tisheca is the mother of Rose Place resident Devonnie "Coolie Man" Belgreaves, the unemployed teenager who was gunned down at about 9:06 p.m. on Sunday, November 8.
He was shot at least five times by a masked gunman who pumped the lethal rounds into him after emerging from a gutter next to where Devonnie was sitting, on a neighbour's step, in the company of his girlfriend.
"He was a nice person; a genuine person. He has his ways, I ain't hiding nothing about him, he has his ways sometimes, but he is a loving and kind person. He will give his heart and work off a battery," Tisheca told SEARCHLIGHT of her first-born son.
She said her son often told her that persons wanted to take his life, so whenever he was outside she would worry. She noted that a few months ago, a hooded gunman pointed a gun at her son and pulled the trigger several times, but the gun did not go off.
"God knows best. He ain't deserve to die that way, but all I could say, I left the ones who kill him in the Almighty's hands.
"I come to a point I give my life to Christ, so I cannot think bad to the ones who kill him. The Almighty will give me my justice," Tisheca said.
She said she knows there are many persons, including relatives, who are saying that Devonnie got what he deserved, but he was just a 19-year-old with two baby daughters to look after and he did not deserve to die like that.
"They just take his life. For what? He never do nobody harm, he never kill nobody. It make a difference if he done kill how many people and I could consider, yeah, he deserve to go down so, but no," said Tisheca.
Tisheca did not expect her son to die the way he did but she is happy that she preached to him about God several times.
"I used to tell him serve God because the gun or the police can't save you. I used to tell him take his problems to the Almighty," Tisheca explained while adding that this is the first time the family is experiencing something like this.
"You see the ones who involved, they will never rest. I will pray hard and they will be revealed…he (Devonnie) has two youths and I wonder if they (gunman) have children," the grieving mother said.