Posted on
New Cabinet of Ministers sworn in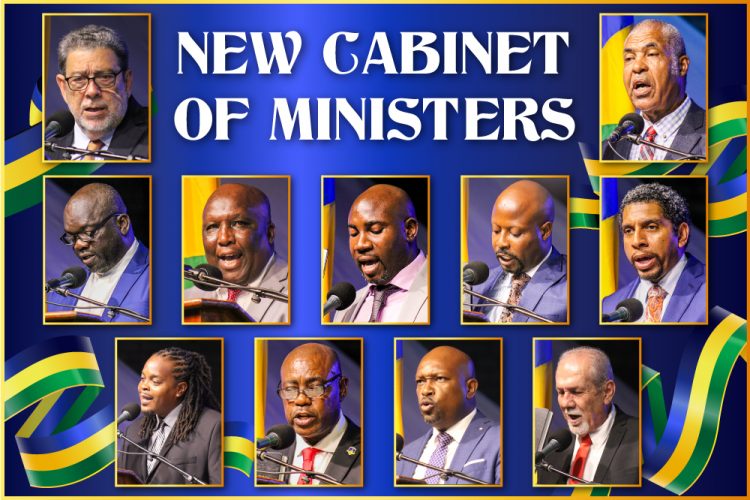 Prime Minister Dr Ralph Gonsalves says three of his younger ministers have been given charge of the main ministries concerned with the economy and creation of jobs and prosperity in St Vincent and the Grenadines (SVG).
The all-male Cabinet of Ministers was sworn in on Tuesday, November 10 at Heritage Square in the presence of an audience filled with public servants, diplomats and well-wishers.
This comes almost a week after the Unity Labour Party (ULP) claimed victory at the polls for a fifth consecutive time, winning nine of the 15 seats – one more than they did in the 2015 General Elections.
This year's appointments see at least one minister returning to his previous portfolio while other ministries have been reconfigured to suit the new members of the Cabinet.
Saboto Caesar is one of the ministers that the Prime Minister says has charge of a main ministry that will drive this country's economy and sustainable development.
He has served for almost nine years as the Minister of Agriculture, Forestry, Fisheries, Rural Transformation, Industry and Labour and will retain this ministry in the newly formed Cabinet.
"He will accelerate his efforts to transform for the better, the agricultural and fisheries sector. He will uplift further the medicinal cannabis industry and transform also for the better, the lives, livelihoods and production of farmers, fisherfolk and their communities," Gonsalves said.
The Prime Minister also named Camillo Gonsalves as having charge over a ministry of critical significance to SVG. Camillo is now the minister of Finance, Economic Planning and Information Technology.
"I have added specifically innovative portfolios to Camillo's ministry of Finance and Economic Planning, namely small businesses, innovation and entrepreneurship, signalling certain particular emphases, including PRYME and PRYME Plus," Gonsalves said.
Carlos James, who will now serve as the parliamentary representative for North Leeward, having wrested the seat from the opposition by one vote, is the third man referenced by the Prime Minister.
This is James's first time as a minister in Cabinet, having served in Parliament previously as a senator and Deputy Speaker before being elevated to Speaker of the House earlier this year, following the resignation of former Speaker, Jomo Thomas.
He has been given the portfolio of Tourism, Civil Aviation, Sustainable Development and Culture.
Orando Brewster is another first-time member of Cabinet, having won the Central Leeward seat in his first outing at the polls.
He has been given one of the largest portfolios as minister of National Mobilisation, Social Development, Family, Gender Affairs, Youth, Housing and Informal Settlement.
The prime minister said he is confident that "this talented and committed young man will make a success of a ministry, which has been constructed as the veritable soul and spirit of the government".
Frederick Stephenson, who previously held the majority of Brewster's portfolio has now been appointed minister of the Public Service, Consumer Affairs and Sports.
Curtis King, a former educator is the third person who will serve as a member of Cabinet for the first time.
He replaces St Clair 'Jimmy' Prince as the Minister of Education and National Reconciliation.
Prince has been given the portfolio previously held by Senator Luke Browne and will serve in the new Cabinet as minister of Health, Wellness and the Environment.
"His overall skills, his patience, calm and enterprising spirit will serve him well in this impactful ministry. He will build upon the very good work done by Luke Browne, whom we thank very much for his service in the Ministry," Gonsalves said at Tuesday's swearing in ceremony.
Three members of the newly configured Cabinet have served as ministers continuously in the past 19 years.
They are Montgomery Daniel, Senator Julian Francis and the Prime Minister.
Two aspects of Daniel's previous portfolio; Housing and Informal settlements have been reassigned to Brewster.
Daniel has now been appointed as the minister of Transport, Works, Lands and Physical Planning.
Transport and Works have long been a part of Senator Francis's previous portfolios. He is now the minister of Urban Development, Energy, Airport, Seaport, Grenadines Affairs and Local Government.
Under his new portfolio, Francis will have oversight of some major projects promised in the ULP's manifesto, namely the Port Modernisation project and buildout of the modern city proposed in Arnos Vale.
Gonsalves has shed most of his previous portfolios which included Airports, Seaports Development and Administration, Civil Aviation, Public Service and Grenadines Affairs.
He will now serve as the minister of Foreign Affairs, International Trade, National Security, Legal Affairs and Information.
Rochard Ballah, another first-timer in Cabinet was sworn in as the parliamentary secretary in the Office of the Prime Minister.
Ballah, a radio personality and lecturer at the St Vincent and the Grenadines Community College holds a degree in Media and Communication from the University of the West Indies and will take up responsibilities directly related to the Prime Minister's portfolio of Information.
He will also join Francis and lawyer, Ashelle Morgan as senators on the government's side in Parliament.
A fourth senator is expected to be named at a later date. This person will also take up junior minister duties in the Prime Minister's ministry, with specific emphasis on foreign affairs.