Posted on
PM directive – Spend more time in your constituencies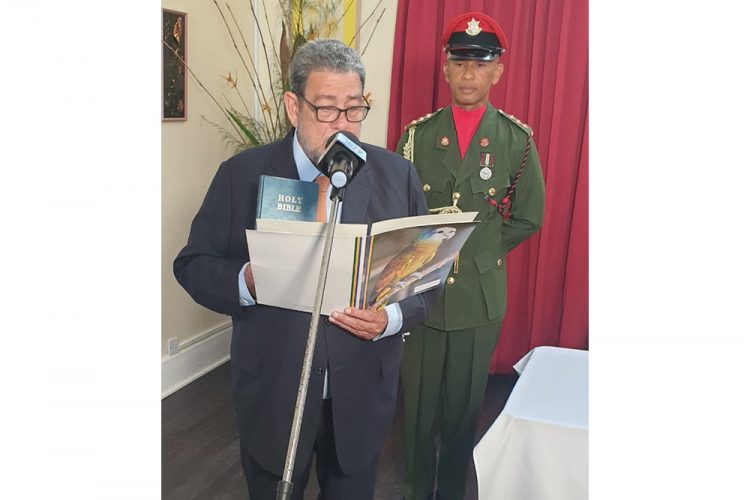 Spend more time in your constituencies!
That is the directive given by Prime Minister Dr Ralph Gonsalves to his party's elected representatives.
Speaking at Government House on Saturday after being sworn in as prime minister for a fifth term, Gonsalves said that members of the Unity Labour Party (ULP) who contested the 2020 General Elections, especially those who won seats, must choose one day of the week on which they would spend several hours in their constituency.
Gonsalves suggested that representatives hit the ground after 11 am on a day of their choosing.
"Not to the constituency offices, but to the people," the Prime Minister said, while noting that weekends are also a good time to meet with constituents.
"…Because when you sign on to this party, you sign on for that kind of activity," Gonsalves said, while adding, "if you don't have the stomach for it, get another job, it is as simple as that."
He said in excess of 3000, "maybe 4000" persons who normally vote for the ULP stayed away from the polls, "but they chose not to go and support the NDP" and that party's strategic narrative.
While the ULP won nine of the 15 seats, the party failed to secure the popular vote, securing 494 votes fewer than the New Democratic Party (NDP).
Gonsalves, who won the North Central Leeward seat for the seventh consecutive term, stressed that voters had concerns about matters in their communities and issues that are connected to them personally, and the government now has to address those concerns.
"The electorate has spoken in that regard and that is a lesson that I take away from these results.
"Accordingly whilst pursuing the mass strategic issues, we will be intensifying the work we have been doing on the community-type issues, touching and concerning lives and livelihoods, which will reach people that are not second removed, but directly," Gonsalves promised.
"I want to say to those members of the Labour family that stayed home, I understand what you are saying, and I continue to love you as I love every Vincentian daily, and I ask other members of the Labour family not to be annoyed or angry with them, but to reach out to them and let us keep this amazing organization together, because this amazing organization, the ULP, which is a natural outgrowth of the St Vincent Labour Party… that we are, and have been the natural party of governance in this county since 1979," Gonsalves commented.
The Prime Minister said he takes the verdict that the people delivered with love and understanding and the issues will be addressed.
This win by Gonsalves makes him the first Caribbean leader to achieve five consecutive victories at the polls in the post-Independence era.
He has described as "an epic electoral battle", the last elections, while noting that the country is split down the middle politically.
He said that healing should take place and while there are "some bruised sentiments" on both sides, what is important, is for persons to recognize that we all belong to SVG.
"We are too small a country to sustain prolong animosities," Gonsalves said on Saturday.