Posted on
Political parties launch manifestos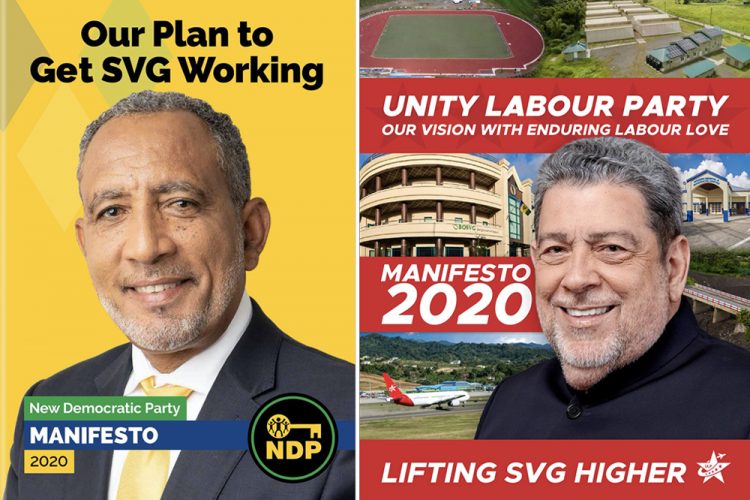 The playing fields at Petit Bordel and Richmond Hill were seas of yellow & white and red on Saturday and Sunday respectively, as the two major political parties each made a grand reveal of their manifestos.
"Our Plan to Get SVG working" was presented by the New Democratic Party (NDP) in North Leeward on Saturday, October 24, as their intended strategy, should they be voted into Government by the results of the polls on November 5.
Following this, a rally for the launch of "Lifting SVG higher" was held in East Kingstown by the Unity Labour Party(ULP) on Sunday, October 25.
The launches were punctuated by speeches, performances of the hottest local artists, proud keys (the symbol of the NDP), and stars (the symbol of the ULP) and flags floating above the crowds.
The ULP rally included filming by drones, and therefore the full capacity of it could be seen, which was in the thousands.
Both launches were broadcast on radio and virtually on the political parties' respective Facebook pages, while the ULP launch was also broadcast on television.
"Here it is laid out plainly in our manifesto, our plan to get SVG, our beautiful country working, working for all of us," the Leader of the NDP, Dr Godwin Friday told his audience on Saturday.
"My dear people, our country desperately and urgently needs the biggest job creation program ever in the history of this country," to deal with the worst unemployment crisis the country has seen, Friday stated.
He outlined five priority areas, also noted in the 76-page manifesto, include "providing skills and employment for Vincentians, investing in small and medium enterprises, growing our agriculture and fisheries industries, delivering infrastructure to help our businesses, and funding science and technology to support our economy."
Ten major intended projects that the NDP says it will deliver, are a new hospital, national program of road repairs, redevelopment of ports and jetties, lighted hardcourts and playing fields, the building a National Arts and Cultural Centre, construction of the Rose Place Development, redevelopment of the Ottley Hall Marina and Shipyard, the upgrade and construction of local health clinics, major hotels constructed as designated Citizen by Investment projects, and the Constituency Development Fund.
A number of drawings were shown over the live feed for prospective projects, such as a North Leeward cruise ship terminal, new hospital, and art centre.
Taxes has been a focus area in political discussions. The NDP is seeking to reduce VAT from 16 per cent to 13 per cent and remove it entirely from essential foods and medicines, reform personal income tax, investigate separate corporate taxes based on sectors, and offer a tax residence to expatriates who live in SVG and purchase a home worth more than EC $1 million.
In response to claims that the party is reckless and has no vision, the NDP's political leader stated, "what is more reckless than taxing our people into poverty and starvation. I believe the people of this country need relief and we will provide it."
The full contents of the manifesto are available, for the proposed initiatives related to supporting of businesses, growing tourism, providing healthcare and housing etc.
One day later than his political rival in revealing their manifesto, political leader of the ULP Prime Minister Dr Ralph Gonsalves has introduced a 104-page outline of what his party has done for their past four terms in office, and what they intend to do with a fifth term.
"Nothing sustainable comes from selling your passports, selling your citizenship because that opens the way to foreigners ruling you in your own country. You will become second class citizens, and virtual slaves in the land of your birth. Labour will never, never allow that to happen," Gonsalves said on Sunday, in a reference to the NDP's proposal for a Citizenship by Investment program.
"You see what the NDP is about – they tell a whole set ah lies. They tell you a whole set ah lies and try to kerfuffle your mind; the mind-benders they tell you a series ah lies about what we are doing and what we are not doing," he submitted. The NDP's manifesto also includes lists of how they perceive the ULP has failed to provide.
As an analogy to explain his take on the current situation, Gonsalves was handed an empty glass while he delivered his speech.
He stated, "I met the NDP – the NDP left for me an empty glass." Filling this glass until it was nearly full, he declared that he had carried it until it was more than three quarters full.
He noted that what "the foreign mind benders" are trying to say is that he did not fill the remaining portion.
"But I have it more than three quarter full and I will tell you all, I will remind you all and the reason why I am coming for another five years," Gonsalves stated as he filled the glass to the brim, "is to finish full it up and leave not behind. I will not leave behind any unfinished task."
Like the NDP's 2020 manifesto, the ULP's 2020 manifesto includes "follies" of the NDP; namely perceived incorrect proposals/decisions on their part.
A general insight into some of the ULP's "large strategic policies and programmes" on offer can be found on pages 15 to 18 of the manifesto.
These include: maintaining the fundamentals of a sound macro-economy, ensuring full recovery of our country from the COVID-19 challenge, building the country's resilience to climate change, making the Argyle International Airport work, adding over 1200 hotel rooms through construction of four hotels, building of an Acute Referral Hospital, the relocation plans of the Pole Yard community, making the Ottley Hall project work, construction in tandem with the private sector of apartments especially for "younger professionals", etc.
The manifesto goes into more details of what the party intends to do with a fifth term, as it relates to tourism, information communication technology, poverty reduction, education, health, the elderly, the workforce, climate change, justice, the Grenadines and other areas.
The SVG Green Party, which is fielding two candidates in the November 5 poll has also produced a manifesto entitled "Vote Green for a strong economy & competent leadership." The Green Party is led by Ivan O'Neal.
The manifestos of the NDP and ULP may be accessed in print and online from the respective party websites:
www.ndpsvg.org (NDP) and voteulp.com (ULP).