Posted on
Persons come here knowing of the protocols, but break them – Official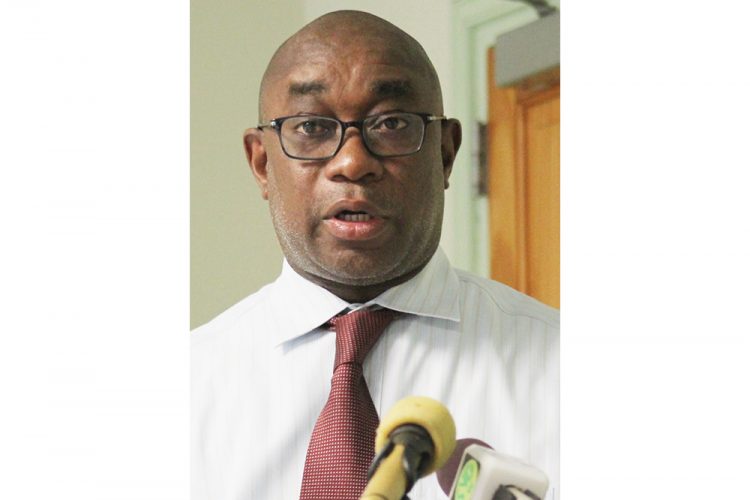 Most persons come into St Vincent and the Grenadines (SVG) knowing full well about the nation's COVID-19 protocols, and with all intentions to break them.
This has been the experience of health officer Dr Roger Duncan, who spoke at the sentencing hearing of Layou resident Tedecia Williams. Williams is the first person charged with breaking quarantine under the Public Health (Amendment) Act 2020.
The maximum sentence for the offence is a $2000 fine AND a six months term of imprisonment. Last Friday, October 2, Williams received a three-month prison sentence, which is suspended for one year.
If she commits another offence within this year, her three-month sentence will be activated, but not before.
Therefore, the self-proclaimed 27-year-old unemployed woman (information from authorities listed her to be a 35-year-old domestic worker), was allowed to walk out of the court freely.
Dr Duncan, speaking to Senior Magistrate Rickie Burnett at the Kingstown Magistrate's Court, informed that the protocols are unambiguous and clearly stated.
"When you're coming from a country that's high risk for Covid, that you would spend 14 days in quarantine, five of which must be spent in an approved facility," the health officer stated.
"The BVI (British Virgin Islands) is high risk. Why? because in the middle of a lockdown they were having community transmission of Covid," Duncan said.
Williams came to SVG from Tortola, BVI on September 19. She arrived on a One Caribbean flight, and on arrival was informed of the protocols. She listed Spring Garden resort as her intended accommodation but she never went there. When the police went in search of her, they found her at her home in Layou.
"This is dangerous, this is risky," Duncan continued, speaking about her travel from the BVI.
"I find based on my experience at the airport that most people come fully well knowing what the protocols are with all intentions to breach them."
"They will literally tell you that we don't care about you or your protocols and your rules, we will do whatever we feel like and we would go wherever we want."
He said that this has been happening, and even if you insist, insist and insist, "people think they could get away with it."
The doctor commented that if one chooses to endanger themselves and their family that's fine, but they're endangering the community.
"These risks are not acceptable risks, they're not risks that we want to take," the medical officer concluded.
Williams had told the senior magistrate earlier that the reason she chose not to get into a taxi to take her to an approved facility, is because she could not afford it. Williams said that she told the airport officials that she did not have any money, and that her family sent the money for her to return home. When she told them she could not afford Spring Garden, they told her that there is where she has to go.
"What would happen in a case where someone arrives from a country and they say they cannot afford the facility, to pay?" the magistrate inquired of the doctor.
Duncan explained that the Immigration Department would hold their passport and the Government would arrange for them to go to a facility, and settle the bill at the end of their stay.
However, only when the debt is repaid, will their passport be returned to them.
"Madam it appears that you have no excuse for taking the position that was taken by you," Burnett told Williams, and reiterated that the society at large would be at risk based on her actions.
Later in the discussion, the Doctor disclosed, on being asked for an opinion, that the Ministry of Health has "invested significant resources" both human and financial, because they recognize the seriousness of the disease, and the health and socio-economic impacts it can have. Therefore, when someone breaks quarantine, it "in fact jeopardises everything that we have done, and that I think is a serious problem for us."
When asked about other countries and how they addressing the issue of quarantine. Duncan noted that persons are paying much more for quarantine, and if they have an apartment and want to quarantine in the apartment, they would have to pay for security.
The magistrate then moved on to delivering his sentence. He carried out a "means test" before, and had learned by the defendant's own admission that she was unemployed, and had been so for the seven months that she was in the BVI.
"..Based on the result of that means test this defendant is in no position at all to pay a fine," he concluded, and the court does not impose a fine with another person being the paymaster.
The defendant was brought to court on September 30, eleven days into her quarantine, and sentenced 13 days into her quarantine.
"Are you sorry for what was done?" the magistrate asked her, to which she responded "Mhmm".
"I have to see it in your face as well. I'm looking for something called remorse and it's more than you saying it, I have to see it, and I'm not so sure that I've seen that in your face," Burnett said.
He also noted that the court cannot divorce itself from the intention of Parliament, apparent in their use of the word and, to signify that both a fine and confinement may be imposed on a defendant.
The magistrate said that it appears as though Parliament wants the court to deal with "these matters" in a particular way.
"There is a reason why the COVID is being managed in this particular way, because of the effect it has not just on the individual, but the country at large," Burnett commented. He added that the aggravating factor of a high level was the risk she put the country at, before sentencing her to a suspended jail term.
Two other persons have also been charged with breaking their quarantine.
On October 1, Jamal Martin, a 29-year-old cruise ship worker of Fairbain Pasture, and Ivan Burgin, a 78-year-old of the USA/Fountain appeared before the Kingstown Magistrate's Court, charged with contravening orders made by Dr Roger Duncan, Health Officer, under s 27 (a) of the Public Health Act, requiring them to quarantine themselves from other persons.
Burgin, who pleaded guilty, was fined $500 when he reappeared in court on October 2, while Martin, who pleaded not guilty, will reappear in court on October 16. He was allowed bail in the sum of $2000 with one surety.