Posted on
Record high number of Taiwan scholarships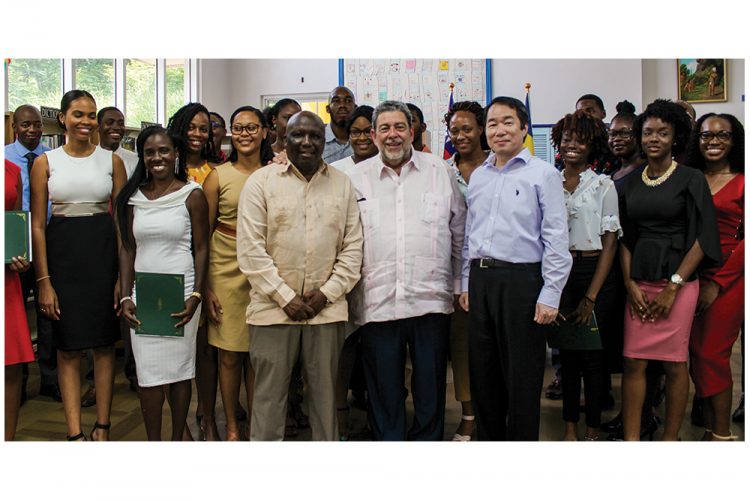 This year, 22 Vincentians have been enrolled to pursue studies across nine Universities in the Republic of China (Taiwan); a record number for the Taiwan Scholarship Programme.
Calvin Ho, Ambassador at the Embassy of ROC (Taiwan) to St Vincent and the Grenadines (SVG), speaking at the presentation ceremony at the National Public Library on Wednesday, formally announced the "record high number".
In comparison, in 2019, 16 Vincentians were awarded Taiwan Scholarships, which are offered by the Ministry of Foreign Affairs of Taiwan and the Taiwan International Cooperation and Development Fund (ICDF).
In total, the Ambassador relayed that since the inception of the Programme 16 years ago, 201 Vincentians have been given the opportunity for higher education study in Taiwan.
This year's program is being executed in the context of the Covid-19 pandemic. Although the scholarship recipients' journey to their new home has been delayed by one month, the Embassy and "every related agency in Taiwan" has expended great effort "to expedite the process for the scholarship recipients to go to Taiwan to pursue their study," the Ambassador noted.
Among the subject areas that the students will be diving into, are: international business, medicine, international studies, international health, health care administration, and mechanical engineering.
"We are especially happy to know that 15 of them will take the Mandarin Chinese programme for the first year," Ho revealed, positive that this will create opportunities for the advancement of "all kinds of relations and cooperation" between SVG and Taiwan. "You are going to experience a very different, vibrant and modern lifestyle in Taiwan. I hope you will take the advantage of your staying there to explore the beauty of my country," the Ambassador told the recipients, advising them that they should in turn be cultural ambassadors for their country.
He cautioned them to study hard, revealing "over the years, Vincentian students have maintained an excellent reputation on academic performances." However, he also expressed confidence that they would do so.
Prime Minister Dr Ralph Gonsalves; Minister of Education, Jimmy Prince; and President of Taiwan Scholarships Alumni Association, Jamali Jack, were also in attendance for the occasion.
During his remarks, the Prime Minister disclosed that the 22 scholarships have a value of EC$6.6 million.
Attending the Taipei Medical University will be Breneva Olliver; the Kunshang University, Emilio Sandy; the National Dong-Hwa University, Shemar Leacock; the National Yang-Ming University, Cordero Telesford, and the I-Shou University, Osherna John.
Students headed to the National ChengChi University are Juanna Holder, and Shadeisha George-Mattis, while Ria Christoper and Melissa Frederick will study at Ming-Chuan University.
Jozanne Layne, Mischka Akers and Khamisi Bascombe will take up studies at the National Cheng Kung University.
A total of 10 students are bound for the National Taiwan Normal University. These are: Soyini Clarke-Palmer, Kimisha Horne, Jaylen Williams, Michael Edward, Sara Marshall, Rayana Patrick, Teron Benjamin, Malika Branch, Azik Douglas, and Rhea Smith.