Posted on
Woman beater jailed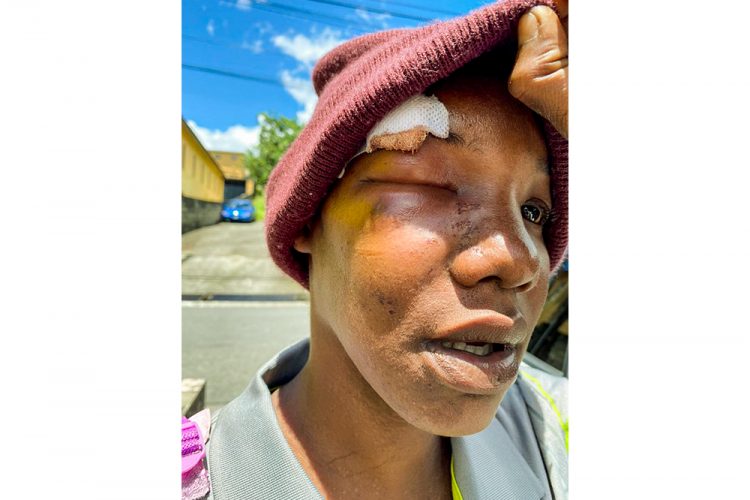 FOR THE NEXT three years, a 43-year-old man will have time to reflect while in prison, on the crime of beating his 23-year-old girlfriend about her body with a cutlass, and severely damaging her eye.
Zamicha Haywood stated, when she was asked at the Kingstown Magistrate's Court yesterday September 14, that it was not the first time that her boyfriend of approximately one year, named Simeon Matthews, had allegedly laid his hands on her.
The police also noted that he is in the habit of beating her.
Matthew's criminal record tells a tale of violence, with two wounding convictions, an assault causing actual bodily harm and two offences involving an offensive weapon.
On Friday, September 11, at around 11 pm, he committed the unlawful and malicious wounding offence for which he appeared in court yesterday.
Matthews and Haywood, Campden Park residents, had headed to a shop in Lower Questelles, where they both drank Sunset rum. It is said that Matthews began accusing his girlfriend of having another boyfriend. The two left the shop and were on their way home when Matthews drew a cutlass and began beating Haywood about her body.
When in court, the 23-year-old also said that she was dragged. A medical form was given to her, and she took these to the district medical officer.
Three days after, noted by the magistrate, her injuries were visible. Her right eye was swollen shut, and red, while a bandage covered part of her right eyebrow.
She used a cloth to wipe her eyes regularly, as it appears that there was wetness.
"A deep jagged open wound noted to right eyebrow," Senior Magistrate Rickie Burnett said, referencing the medical forms. "I mean the key word here is deep," he told the defendant.
Addressing Haywood, he asked if it was the first time that she was beaten up by Matthews. She posited that it was more than once, and alleged that any time she talks to a male person, he gets a bit jealous, and the violence is the result.
"Even though he has his child mother that he goes to from time to time?," Burnett asked her, referencing something the defendant said earlier.
She also informed that when Matthews talks to the mother of his child, she doesn't say anything to him about it.
When it comes to a penalty, the defendant asked that he be allowed to compensate her, and, also mentioned not wanting to lose his job.
Upon hearing this, Senior Prosecutor Adolphus Delplesche questioned "You could go down Courts and buy an eye?", noting that a person can't pay for an eye.
The defendant later asked for a bond, but the magistrate had earlier pointed out that his sentence goes beyond the two of them, and the court has to send a message to others.
"Without seeing your record…this is not one I'm going to bond you for. Could tell you that straight up," Burnett told him.
"Right now you will have to convince this court why you should not go to prison. There is where I am," the magistrate said.
"Violence against women is a big issue," and women depend on the court to address it, the judicial officer told him.
He also mentioned the age disparity, "you could be her father."
Weighing in on the matter, the prosecutor asked "What manner of man will ill-treat his girlfriend where she cannot see from her eye?"
Had the charge been on indictment and taken to a higher court, the penalty may have been up to 14 years, Delplesche reviewed, but at the summary court that is reduced to seven years.
Listing some of the aggravating factors: the age disparity, the injuries and Matthew's habitual conduct, he commented that they were grave.
"He has absolutely no reason at all," Deplesche continued, and, referencing something the defendant said before, the prosecutor posited that the defendant is
the one buying rum for the young girl.
A jail sentence was the prosecutor's recommendation for the "wicked man."
He felt that his behaviour was barbaric, to be treating a human being that he loved in such a manner.
"It's barbaric. You're a beast. You are," the prosecutor addressed him.
"Look at the child face… she's a child!" he said finally.
Before sentencing was determined, Haywood was asked whether she wanted Matthews to go to prison, and she answered "well…. yeah."
"There is, and there was only one sentence in my mind, based on what I've heard, and that was prison," Burnett reiterated.
In sentencing, after the court was stood down shortly, he noted that the effect of the injury could still be seen, that it was said that it was not the first time that there was abuse, and the age difference.
"The court also looked at the whole concept of abuse of women by men in St Vincent and the Grenadines, that must be a factor," the magistrate continued, and said that the court must send a message to society at large. "I know that the society at large may want the court to throw the book at you but the court still has to temper justice with mercy, as I believe that I got you to a position to understand that what you did was wrong," he commented, presumably referring to the fact that the defendant eventually said that he was sorry for the things that he had done.
The magistrate started at a term of three years of imprisonment, but after all was said and done, the final sentence returned to this figure.