Posted on
Former AG attends Parliament for final time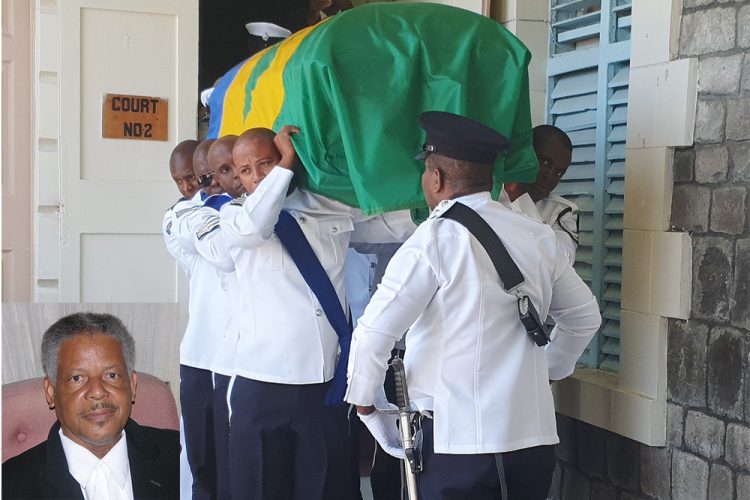 Emery Robertson Sr played a large part in building democracy in St Vincent and the Grenadines (SVG).
"He toiled with us in the wilderness and was with us in every corner of St Vincent and the Grenadines, all the way to Fancy in the North and Fitz Hughes in the South (sic). I want to say that it is on the shoulders of people like Emery Robertson and other founding warriors of the New Democratic Party stand all these parliamentarians today enjoying the fruits of office," former Prime Minister James Mitchell said at Robertson funeral on Wednesday.
Robertson, a barrister-at-law, was born on July 31, 1944 and died on August 13 at his home in Cane Garden.
He was accorded an official funeral that saw his body lying in state at the House of Assembly after which it was taken to the Roman Catholic Cathedral of the Assumption at North River Road, then to the Kingstown Cemetery, his final resting place.
Mitchell, during his tribute, said Robertson was the first Attorney General in the New Democratic Party (NDP) Government following the party's victory in 1984. He revealed also that Robertson was the architect of the party's constitution and was with them during the days of the alliance government with Ebenezer Joshua between 1972 and 1974.
The former Prime Minister noted also that Robertson represented them in court matters, including when they faced a commission of enquiry on corruption, a case that proved they had done nothing wrong.
Mitchell noted that in 1984, it was decided to advance the 1972 policy on land reform by creating a property owning democracy and, "the guiding hand was Attorney General Emery Robertson."
Going further, Mitchell said during the state of emergency after the Union Island uprising in 1979, he confined himself in the Grenadines and placed Robertson in charge of the party on the mainland. He added that at the end of the state of emergency, when a bi-election was called, Robertson was at his side at the polling station in Union Island when there was an altercation and gunplay.
"He did his part in the evolution of democracy and earned his right to this official funeral. He was generous and caring," Mitchell said of the man that drafted the NDP's constitution, which was adopted in 1976 at a convention on the steps of Delpesche Rum Shop in Petit Bordel.
"I thank Emery for his service to democracy and to St Vincent and the Grenadines. May he rest in peace," Mitchell said, ending his tribute.
Tributes also came from among others, lawyer Rene Baptiste on behalf of the SVG Bar Association, Annelle Thomas on behalf of Soroptimist International and lawyer Vynnette Frederick on behalf of her father lawyer Bayliss Frederick.
Parliamentary representative for West Kingstown Daniel Cummings also paid tribute to Robertson.
In her delivery, Baptiste said Robertson had great intellect and respect of and for the court during his 50 years of practice.
"He was such a gifted orator. His presentations and submissions in both the criminal and civil jurisdiction of the court were such that they could be termed master-classes in courtroom advocacy," said Baptiste.
She said Robertson enjoyed a good name among his friends, colleagues, family, members of the public and even some of his enemies.
Baptiste said he was a Christian and a figure of respect who cast an image of honour and sensitivity in his profession and noted that condolences have come from around the region including from Trinidad and Tobago, Jamaica, the Bahamas, St Kitts, Guyana, Dominica, Barbados and Grenada.
Delivering the homily, Reverend Monsignor Michael Stewart said our lives impact others "whether in small ways or more significant ways" and Robertson impacted the world.
He said persons must not be afraid to die, as everyone dies, so persons close to Robertson can be comforted by the fact that they would meet Robertson again, albeit not in this life.
The funeral was attended by Opposition Leader Dr Godwin Friday, Speaker of the House of Assembly Carlos James and several Opposition parliamentarians including St Clair Leacock and Israel Bruce. Deputy Prime Minister Sir Louis Straker was also present.
Robertson is survived by his wife Shirley, daughters Sandra and Samantha and son Emery Jr.