Posted on
Unique Vincy Grass Mat on display at Embassy in Taiwan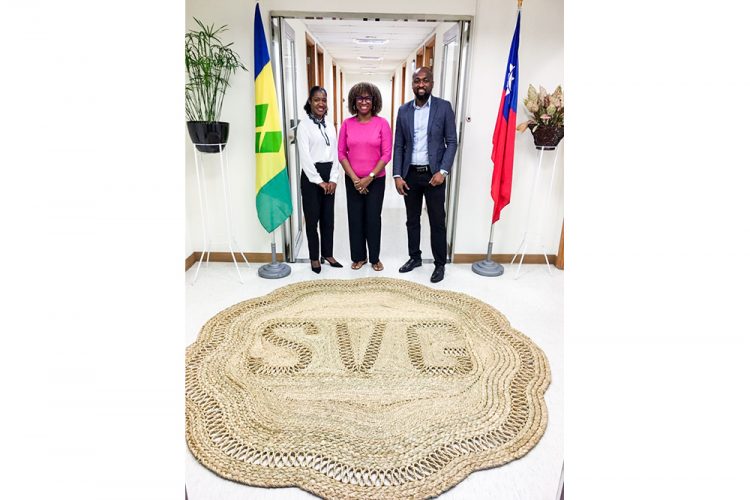 A SIGNIFICANT LANDMARK of the GROW IN TIME Sustainable Livelihoods program in the prisons of St Vincent and the Grenadines (SVG) has taken place with the export of a unique vetiver grass mat to the Embassy of SVG in the Republic of China on Taiwan.
Prominently placed at the entrance of the Embassy's office, the intricately crafted floor mat sports the letters 'SVG'. Through its technical mastery and aesthetic beauty, the mat has become a symbol of national pride and connection to the homeland for Vincentians away from home.
It's also a feature that impresses visitors, and of which Ambassador Andrea Bowman is immensely proud: "From the moment I had seen the picture of this mat at Vincy Expo 2019, I knew that it belonged in our 'home away from home'. We are honoured to be able to showcase that beautiful product of our country's industry. Thank you the Grassmen! Thank you Vonnie! "
Despite the logistical challenges of shipping the 8-foot diameter mat, Ambassdor Bowman was determined to feature it in a prestigious location in the Embassy office.
The entire Grow in Time team who worked on the mat are uplifted by her vision becoming reality in August 2020, which has positioned Grow in Time creations in an international setting.
Project coordinator Vonnie Roudette states: "Bringing joy to our Vincentian sisters and brothers and an overseas mission through our work in such a prestigious setting is indeed humbling.
It represents the flowering of a seed of creativity sown inside our prisons five years ago. The entire team extends heartfelt thanks to Her Excellency for making this possible."
Grow in Time is a social marketing arm that distributes income from sales of grass products to the prisoners to assist them and their families.
The sustainable livelihoods project continues to grow outside the prison walls as local NGO Hand2Earth coordinates a land conservation project, vetiver farm and craft workshop to create eco-entrepreneurship training for ex-offenders and at-risk youth funded by the UNDP GEF Small Grants Program.
Grow in Time also seeks to raise public awareness of the role of ethical purchase in crime reduction through changing our attitudes towards ex-prisoners.
"We seek to humanise and de-criminalise the image of the prisoner and ex-prisoner from destructive troublemakers to a persons who can contribute positively to their communities," a release from Grow in Time said.