Posted on
Young man pleads guilty to beating mother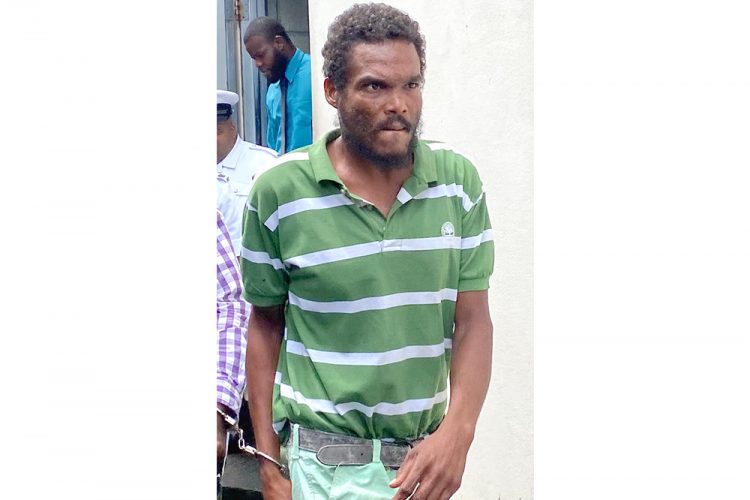 A 31-year-old man who, in a drunken state, beat his mother about her body and said he was going to kill her, has been remanded for sentencing on Thursday.
Dwight Taylor of Redemption Sharpes is the son of 45-year-old Elizabeth Young of the same address.
The incident which caused Taylor to end up before Chief Magistrate Rechanne Browne at the Serious Offences Court yesterday, August 31, occurred on Saturday, August 29, at approximately 8:50 pm.
On this night, while lying on her bed, Young heard a banging on her kitchen door, and following the sound, she eventually realized that it was her son, who was in a "highly intoxicated" state.
When the mother saw that her son was in this state, she complained to him that he mustn't come to her home when he is drunk. Nonetheless, she also asked him if he wanted any food to eat.
"I don't want no f**king food, I will kill myself," her son told her, while arguing.
Young asked him not to make noise because her ill husband was sleeping, but Taylor persisted.
The mother then went to the bedroom and proceeded to get dressed so that she could go and make a report to the police. While she was doing so, her son came up behind her, grabbed her and began beating her about the body with his hand. He was boxing her in the ribs and twisting her left hand. Young cried out in pain but this did not deter her son, who apparently said "I come to f**king kill you and your husband."
Screaming, Young told Taylor to stop, but he still wouldn't listen. He dragged her by her shirt into the kitchen, and keeping his mother to a corner, he began searching for a knife. However, acquiring a steel spatula instead, the 31-year-old used this to continue beating his mother on her side and squeezing her neck.
However, Young, who grabbed his hand, managed to escape, and ran to get keys, before opening the living room door, and running to her mother's (Taylor's grandmother's) house which was not far away. Young was using her mother's house as a refuge while waiting until the police came, when Taylor arrived, continuing to argue. He asked his grandmother to let his mother come by the road so that he could kill her.
Taylor denied the allegation when the police interviewed him the following day, but was later arrested and charged for the offence of assault bodily harm.
At court, he admitted his guilt to the offence. When asked if he had anything he wanted to say, he said that he wants to apologize to his mother, that he didn't know about it at all, and was intoxicated.
"So you could have killed her and didn't know?," the magistrate noted, "And then you woulda say you're sorry?"
She asked him if she was supposed to believe that he didn't know anything at all about what was going on.
"…You went to the right place," Browne listed, "You went to the right house. You addressed her as mother. You attacked her. She fled. You followed her. You asked her to come out so that you could kill her…"
She observed that he had a serious problem.
"I have looked at you in the box for the duration, that is what I saw," she said. It seemed that she was referring to the fact that the defendant's arms were trembling.
"You have a serious problem. And a serious problem could lead to serious consequences…," the magistrate told the defendant.
Looking at the nature of the injuries that were listed on the medical form that the mother had taken to a doctor after the incident, Browne noted "It's horrendous."
He could have been before her on a much more serious charge, she said.
Browne contemplated on whether another assault conviction he had earlier this year was due to intoxication.
"Can't allow you to continue like that," the magistrate concluded, and that "something has to be done."
She chose to remand him in custody until Thursday, September 3, when he will be sentenced.
His mother "could probably hardly move with these injuries," she said, commenting that there were injuries to the neck, back and dislocations.