Posted on
Ministry of Education finalising plans for new school year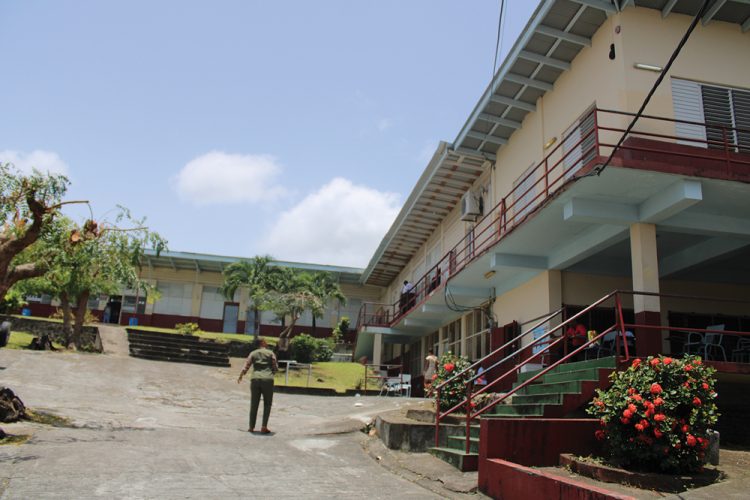 by Bria King
Students will resume face-to-face schooling one week later than originally announced as authorities move to finalise arrangements for the new school year.
Schools in St Vincent and the Grenadines were previously scheduled to reopen next Monday, August 31. But a release from the Ministry of Education yesterday said that schools will now reopen on September 7.
And only teachers will return on August 31 "to assist with finalizing arrangements for the new school year".
"Recognizing that the well-being of our nation's children and educators is an absolute priority amidst a global pandemic, this week will allow teachers to be actively engaged with health professionals to review the individualized protocols and plan effectively for the new school year," the release said.
SEARCHLIGHT spoke with several principals this week, all of whom noted that they were doing their best to prepare for the upcoming school year, during which all students were expected to be involved in face-to-face learning.
Some principals however told SEARCHLIGHT that their schools were yet to receive thermometers to administer temperature checks to students, as is outlined in the protocol for the reopening of schools.
"Although I know the ministry has said and the prime minister
has said that teachers should do the testing in terms of temperatures, we are not sure how many thermometers we are going to receive and children come to school as early as 6 o'clock, 6:30 in the morning…,"a principal of a secondary school said.
The educator noted that close to 700 persons are on the compound on a daily basis and that it would be a task for teachers to take temperatures when children come to the classroom, as the school is trying not to encourage too much congregating.
"So if they come early and they are tested early, they can go to their classrooms. This is something that we have to look at. So we will have to put additional measures in place for testing," the principal said.
A principal of a primary school told SEARCHLIGHT that few teachers are willing to be the ones administering temperature checks.
"So far, I threw it out to the staff when we had sessions last week and one teacher volunteered to do the check.
Where the problem lies is with the thermometer itself because thus far, we haven't received any from the Ministry of Education or the Ministry of Health. I have one that I bought when the Grade 6 students returned to school in…June. That's the only one that we have at the moment," the educator said.
This particular primary school has over 400 students on roll.
When SEARCHLIGHT contacted another school, the head said that it was being cleaned in preparation for the return of students and parents had been advised on all the necessary protocols related to their children's return to face-to-face learning.
Oswald Robinson, president of the St Vincent and the Grenadines Teachers Union held a press conference last week during which he made recommendations for things that should be put in place to facilitate the smooth reopening of schools.
One such recommendation was that health personnel should be dispatched to the various schools to administer temperature checks.
He added that teachers should not be the one to administer these checks as they were not trained to do so.
But Prime Minister Dr Ralph Gonsalves said this week that one does not have to have special training in order to do temperature checks.
"Those who ask that we must have nurses at the schools; you have 61 primary schools and 27 secondary schools. We have preschools. We have different divisions of the Community College. Are we going to hire 100 extra nurses to take temperature when it's a function which can easily be performed, by anybody who can just read a number, put it towards your forehead?" Gonsalves questioned.
He said he has gone to events where persons who were not nurses were tasked with administering temperature checks.
The prime minister added that persons should consider what is reasonable in the given circumstances.
Teachers at several schools visited by SEARCHLIGHT said they have no qualms being responsible for this particular task once school reopens.
"The staff met and our main thing is, if this is what is required of us, then of course…we will do what is required of us. We are clear in terms of what the Ministry of Health and the Ministry of Education expects so if this is a requirement, we are not going to be defiant," Ronnie Richardson, a teacher at Bishop's College Kingstown said.
Richardson, who is also a member of the school's administrative team, said there are two designated spaces at Bishop's College Kingstown where students will be isolated if necessary.
And he is confident that measures have been taken by the school to ensure that the staff and entire student body — which numbers over 400 students — remain safe.
The teacher noted that the secondary school collected its package from the education ministry on Wednesday, which includes sanitiser dispensers and other cleaning agents.
Susan Abraham, principal of the Kingstown Preparatory School told SEARCHLIGHT that the school received two thermometers from the education ministry this week.
And she noted that in addition to teachers, parents have volunteered to do temperature checks.
"They will come early and we will start from the gate, send the children into the classroom and tell them to sit, read a book and wait on the teacher, if the teacher isn't there already," Abraham said.
She noted that some children are usually at school by 7 am, despite classes not starting until 9 am. Abraham also said that the school will do its best to accommodate everyone.
"I really and truly believe that it's time enough that our children are out to school. It has been a long journey, it has been a long time out for all of us. Even though we have been working tirelessly, teachers, principals across the nation to put things in place, we just have to wait and see how it works but we have to try something…let us try and see how we go forward for 2020/2021," the principal said.