Posted on
Leacock sees a breakdown in law and order in SVG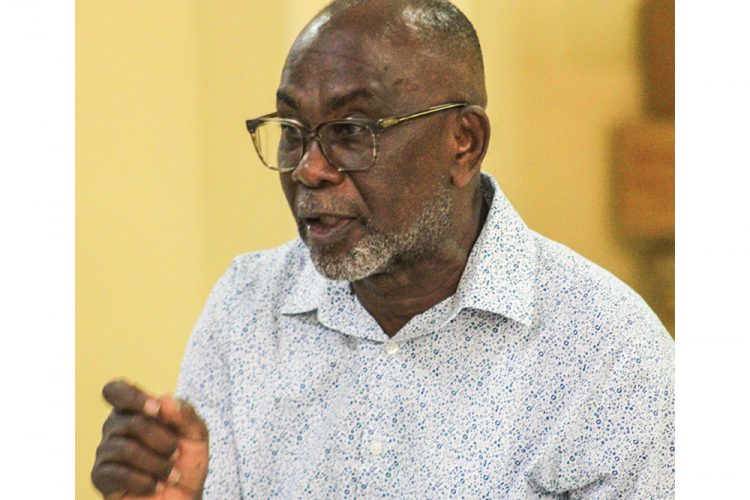 Opposition politician St Clair Leacock believes that the decision by a prominent physician to not give evidence in a criminal matter points to a breakdown in law and order.
A prominent professional in this country who was stuck up by gunpoint, robbed, refused to give evidence in court.
"That person's husband is a member of parliament and a lawyer, the person's brother is a member of parliament, the person's sister is a magistrate, and their judgment is that it's not safe to give evidence in court, which means that those persons will walk," Leacock told listeners of Boom FM's OMG in the Morning radio show yesterday.
Leacock was referring to the case of Dr Reisha Twana Browne-Caesar, consultant nephrologist at the Milton Cato Memorial Hospital (MCMH) and wife of Saboto Caesar, the Minister of Agriculture, who was robbed at around 9 pm on September 15, 2018 outside her home in Cedars.
The parliamentary representative for Central Kingstown said he mentioned this case to the Christian Council when the New Democratic Party met with them last week.
Browne-Caesar is the sister of both Minister of Health Luke Browne and Chief Magistrate Rechanne Browne.
"In other words, while we have one problem over here there is an equal problem over there and there is a total breakdown of law and of order inside and outside and it is becoming pervasive," Leacock told radio host Dwight Bing Joseph.
Browne-Caesar s refusal to testify resulted in accused men: Elroy Rogers, of New Montrose; Glenville Harry of Vermont; Rocuan Robinson of Campden Park; suspended police officer Ettian Charles and Olrick "Chucky" Hanson, originally of Mayreau, being discharged of charges of aggravated robbery.
The preliminary inquiry examining the evidence surrounding that incident, was set to begin on July 22.
It had been alleged that the physician was carrying her son in her arms, and was exiting her motor vehicle, when she was approached by two masked men. These men, armed with a knife and a gun, relieved her of her handbag that contained cash, documents, an Iphone, and other electronic gadgets, among other things. The total value of the items stolen from Browne-Caesar amounted to EC$10,350.50.
However, Browne-Caesar indicated before Senior Magistrate Rickie Burnett at the Kingstown Magistrate's Court that she did not want to continue with the matter.
A source close to Browne-Caesar told SEARCHLIGHT that the physician decided not to offer any evidence because she did not want to have to re-live the experience.
However, the same men were also charged with the armed robbery of Lisa Wilson of Brighton which occurred in Brighton on September 14, 2018. They were also accused of taking a cash machine valued at $1600, as well as $630 and US$115 in cash, all at gun point.
On the same date, and place, they are said to have wounded one Grafton McDowall of Brighton by striking him on the head with a gun.
Charles, Hanson and Harry also face the decision of the magistrate s court on whether they will stand trial at the High Court for burglary of the GEC Auto Supplies Ltd of Arnos Vale which allegedly occurred between August 31, and September 1, 2018.
Hanson and Harry, along with one Jerome Ollivierre of Mayreau, are also charged with the murder of security guard Rodney George of Victoria Village, between these dates.
Charles was recently discharged on this murder charge after the prosecution conceded to a no-case submission made by his lawyer Grant Connell.
Charles is also solely charged that he did, on September 17, have one Smith and Wesson .38 revolver and six rounds of .38 ammunition without a license.
Leacock, who is also a Vice President of the NDP also mentioned, in support of his position, the recent killing of Block 2000/Old Montrose resident Kimron "Warlord" Hannaway.
Kimron, also known as "Dogman", was shot and killed in Old Montrose on Sunday August 2, around 8:45 am. Devon "Chiefman" Charles is awaiting trial for this killing.
Mention was also made of the police shooting of Langley Park resident JuD Abbott. Abbott was shot by police officers on Saturday, August 1, 2020, between 2 am and 3 am in Langley Park. He later died.
On Sunday, during Abbott's funeral procession, persons gathered outside the police station in Georgetown where they protested Abbott's killing with singing of hymns and choruses.
Some of the mourners ventured on to the verandah and steps of the police station where they booed and shouted.
The doors of the station were closed by the officers at one point.
Leacock said the demonstration in Georgetown shows a clear continuation of a breakdown of a kind, that anything can happen at any time.