Posted on
Three denied bail as police continue gas station burglary probe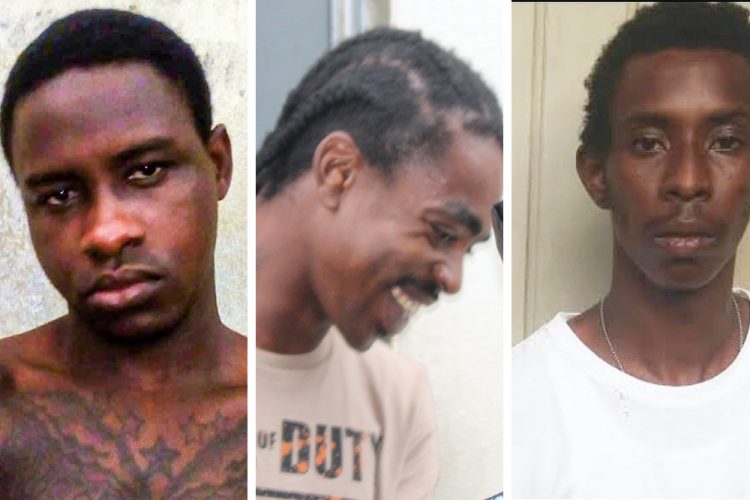 The police continue to aggressively investigate an alleged burglary, and attempted burglary that took place at a gas station compound in Peruvian Vale last weekend; and have laid charges against three men for such.
The break-in and attempted break-in to the buildings adjoining the Rubis branded petrol station at Peruvian Vale at around 3 am on Sunday, August 9, triggered a prompt police response that morning.
After the police responded to an alert, events occurred, resulting in the death of 21-year-old Keithon James of Campden Park by police gunfire (read more in the Midweek edition of SEARCHLIGHT, August 11, published online).
Following this a number of persons were detained and the Major Crimes Unit (MCU) has charged Romando Andrews, Quincy Boyde and well known Jemark "Parch Nuts" Jackson in connection with the burglary.
Andrews, 30 years of Diamond/Peruvian Vale/Clare Valley, Boyde, 26 years of Rillan Hill/Ottley Hall, and Jackson, 28 years of Campden Park were brought before the Serious Offences Court (SOC) this Wednesday, August 12.
There, they were all charged that between August 8 and 9, at Peruvian Vale, they entered the 2-Go Restaurant at Peruvian Vale as trespassers, and stole one 42-inch Visio flat screen television, one 14-inch Visio flat screen television, a Celismart kettle, an ocean microwave, a cordless keyboard, an alarm siren and EC$150 in cash. Together the items allegedly stolen are worth EC$7070, and are the property of Hazel-Ann Joseph of Arnos Vale.
The trio are also accused of attempting to break in to the Triple S Supermarket, with the damage of an Aluminium Door valued at EC$1240, and two deadbolt locks worth EC$120, both belonging to Harmony Investment Ltd.
"Parch Nuts" is solely accused of having one hoe in his possession on August 9, reasonably suspected of being stolen or unlawfully obtained.
All of the defendants entered not guilty pleas for the accusations.
However, when the matter of bail arose Senior Prosecutor Adolphus Delplesche indicated that he had an objection. He relayed that the Investigator, Inspector Elgin Richards, "had a conversation with me, and the investigation is heading in a direction where certain exhibits are still outstanding."
"He has indicated that he is nearing those exhibits and should the defendants be granted bail, he's fearful that the investigations could be interfered with," the prosecutor continued.
Instead of recovering the exhibits, they may instead disappear, they fear.
"The Investigator is an experienced investigator and he knows that he cannot make this application ad infinitum," Delplesche stated.
They asked for a little more time, reiterating that bail is a right, but there are certain conditions upon which it can be refused.
Counsel for Andrews, Charmine Walters, disagreed. She said that she did not think that this was sufficient grounds to refuse the defendant's bail. Citing several legal sources, including the Constitution, she backed up her submission that bail was a right and that there was a strong presumption of innocence.
The counsel said that the prosecution has not given sufficient reason why bail should be denied, and noted that her client is not a flight risk.
"The day that he was arrested, he was arrested at home actually," she pointed out, and before this did not attempt to escape the jurisdiction.
Walters also noted that conditions could be attached to the bail to alleviate the prosecution's concern.
The prosecution responded, stating that in the same constitution quoted, "bail is not an absolute right, it's a conditional right."
"The same constitution allows for equal rights, the prosecution and the defence," he said.
"The presumption of innocence is only a presumption, that's what it is – a presumption. And while they (the defendants) have rights, so too victims of offences have rights to justice. So too the investigators have rights to investigate. The same constitution," Delplesche emphasized, Walters returned that she agrees with the prosecution but conditions may be attached to bail.
Nevertheless, feeling concerned in particular about the possibility of interference with the course of justice, Chief Magistrate Rechanne Browne decided not to grant bail at that juncture but will reconsider next Monday, August 17.