Posted on
Sandals Resorts International steps in at Buccament Resort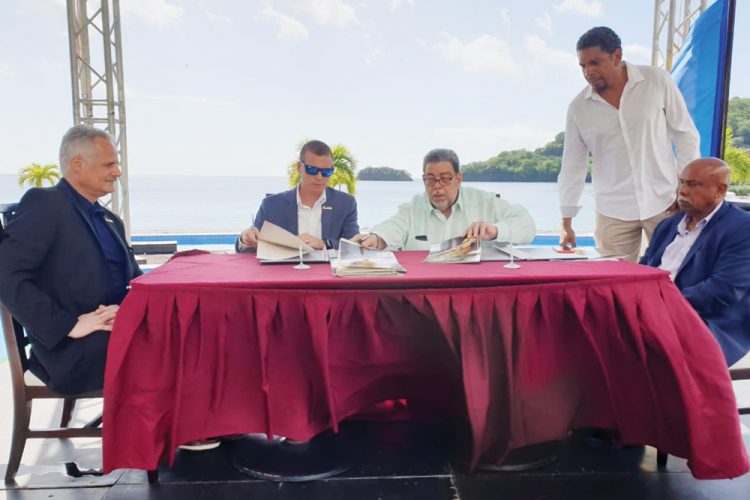 Sandals Resorts International is hoping to make St Vincent and the Grenadines (SVG) "the next new and hottest destination" this side of the hemisphere.
"We are going to make sure that the world knows everything they need to know about St Vincent and the Grenadines and the beauty of your country," Deputy Chairman of Sandals Resorts International Adam Stewart told a gathering at the former Buccament Bay Resort on Wednesday.
Stewart and his team were in SVG to sign an agreement that will see the construction of a Beaches branded resort at the Buccament Bay location.
The new resort is expected to have 350 rooms with a maximum guest capacity of 1400 persons. It is expected to create 800 construction jobs and eventually 900 permanent resort jobs.
Minister of Finance Camillo Gonsalves in a Facebook post said the project will result in foreign direct investment of US$100,000,000.
Stewart said that Sandals cannot help the country in certain industries but it can boost the hospitality industry.
"We gonna bring something to this destination that is going to uplift not Buccament Bay, not Sandals Resorts International, specifically Beaches, but we expect every tide in tourism to rise," Stewart said while adding that they will play their part in bringing accelerated airlift to the country and training and development to the human resource among other things.
"We are going to build you a hotel that after it's fully executed will look something between 330 to 350 suites comprised of 1, 2, 3, 4, possibly even 5-bedroom suites."
The resort is also expected to include a water park and a five-lane bowling alley.
Stewart noted that in 1991, 10 years into the Sandals journey, the company made its first venture outside of Jamaica to Antigua, but SVG will be the first Beaches product in the Eastern Caribbean (EC).
"This will mark our eighth island and accelerate the love affair we have not just with the Caribbean but specifically the Eastern Caribbean. We going to build a product that is designed for the multigenerational family experience," Stewart said.
He added that currently, the world is going through a pandemic and there is insecurity, but nothing lasts forever.
"We are looking at this investment and partnership with the government and country through a future lens. A lens that is bright…" Stewart told the gathering, while noting that his company feels that the safest thing they can do for their existing 14,000 team members, is to look to the future and create a better tomorrow and not focus on the momentary pause we are going through at this point.
He said many persons took freedom of travel for granted and never thought twice about travelling but that lack of privilege has shown us how important hospitality is and seeing new things and cultures.
"I promise to move swiftly to bring back the team as soon as we are able to spend the time we need to create what we call the 'Sandalization' process," Stewart commented.
He said the introduction of Sandals will be transformative and inclusive as they will work with agriculture, the taximen, hardware stores, retail stores, manufacturing entities, the entertainment industry, "and just about every sector in this country through our linkages program."
Stewart noted that the project has been over four years in the making between him and minister of finance Camillo Gonsalves, but his father Butch Stewart and Prime Minister Dr Ralph Gonsalves have been talking about a development of this nature for well beyond a decade.
He said the process has been frictionless and the professionalism with which the government has approached the initiative with must be noted.