Posted on
Quarantined AA passenger raises some concerns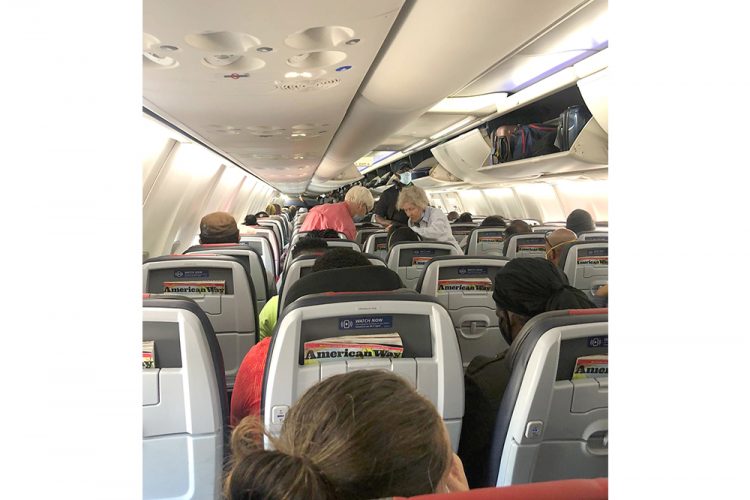 by Bria King
All passengers who arrived on American Airlines flight 945 – six of whom have tested positive with COVID-19 – should be assessed at the same level of risk and therefore should be retested.
This is the view held by one of 69 persons who were assessed to be in close proximity to the positive cases on board the flight and have since been placed under a 14-day quarantine.
"If I am on a flight and six people are positive, and there were a hundred and something people on that flight, I think 155 to be exact, then we are all basically in proximity with each other and then we should all be tested in seven days," the returning national, who tested negative on PCR told SEARCHLIGHT in an exclusive interview yesterday, July 13.
The new positive cases have commenced a 14-day isolation period.
"Some passengers, regardless of PCR result test have been assessed as being high risk for COVID-19 and will continue in mandatory quarantine for a period of 14 days. A second COVID-19 PCR test may be conducted on all contacts and other high risk passengers during the five to seven-day period following arrival," the release from NEMO said.
The other 149 who arrived on the flight had negative results, either having brought these results with them, or receiving negative results for COVID-19 PCR tests, done on arrival in St Vincent and the Grenadines.
But the passenger, who spoke on the condition of anonymity, opined that picking and choosing who goes into quarantine based on who was sitting on which seats may not be the best choice.
"If you're going to do that and you're calling it protocol safety for the entire country and the entire community as a whole, then retest everybody because six people on that flight, I promise you can affect everybody on that whole flight," she said.
The returning national acknowledged that there were people who travelled
with documents to show that they tested negative, prior to travelling to SVG.
She made reference to the negative result of the test she did at the Argyle International Airport (AIA) and said that her exposure on the flight was no more than those who already tested negative prior to boarding the AA aircraft.
She also told SEARCHLIGHT that no court order for quarantine was issued to her, but she received instructions that although she tested negative, she should stay in quarantine until a second test could be administered in seven days.
But she opined that if her second test in one week's time is negative, she should be allowed to leave quarantine.
The returning national said she came home to conduct business, which requires physically being in St Vincent and the Grenadines as she has to sign several documents.
And being in quarantine for the next 14 days will set back her plans tremendously as she only intended to stay for a couple weeks.
"It definitely affects it. I'm just here for a few weeks and being in a quarantine for two weeks is very unreasonable with a negative status," the quarantined individual said. "There were other people who were sitting next to me when I checked in with them, they were not quarantined and they were right next to me. I'm thinking if there's three of us sitting on a row and I am quarantined, why are they not quarantined."
Despite this, the returning Vincentian said that this country is on par and even ahead of international standards as
it relates to travel protocol in this time of the COVID-19 pandemic.
She said she travelled through two airports prior to arriving in SVG on Saturday and while they were not as crowded as she had anticipated, there were no checks done on persons travelling.
Giving an overview of her experience, the passenger said that no temperature checks or scans were administered at the airports in the US. She added however, that it was mandatory for all passengers to be wearing masks during the four-hour flight to SVG.
"I was very pleased with the presentation of the protocols for the testing," the passenger said of her experience once she arrived at the AIA. "Our temperature was checked in a room in the back, they asked obviously the information one more time to be filled out and from having your temperature checked, you also went into another room where you were then administered a test. The test didn't take long, you were in and then you were out."
The returning national said however that there is room for improvement as passengers, which included many elderly persons, were made to stand for almost two hours to enter information that they had already filled on a form into a mobile application.
"…When we disembarked the airline, it went downhill a bit from there because the forms we filled out on the plane, we were told we had to download an app and refill it again and for a lot of people, the app was not – I don't know if it's because it's a local app, it wasn't syncing with our overseas phones so it was not loading, it was not taking the information…" she explained.
She said it was eventually decided that the information would be entered manually at the testing site and in her opinion, this should have been the first option.
But the passenger said she acknowledges that this is the first major international flight into the country since the protocols have been in place and while she thinks some aspects could have been managed better, she believes that the authorities did a good job.
"Kudos to the Ministry of Health for the great effort that they've extended so far. I really, really think that they're doing a great job and I want to commend them on that and I hope for the following flights, they could use what they've learned from this flight to …improve and master some of the things that could have gone down just a little bit differently," she said.