Posted on
Artist hones her creativity during the pandemic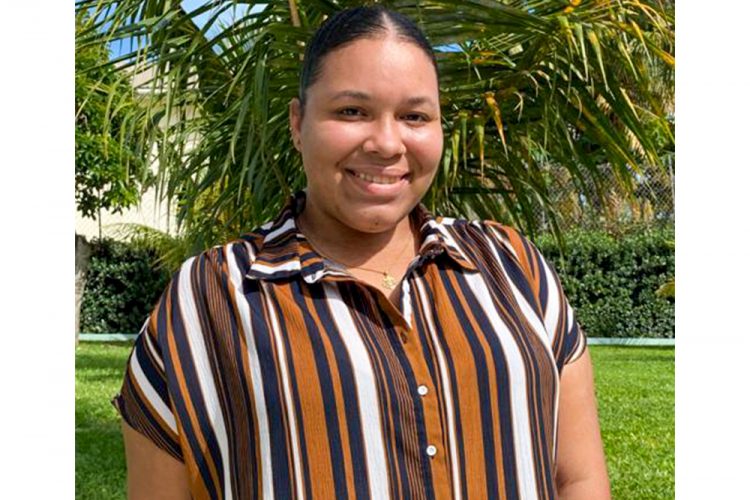 While others have found it frustrating to be inside for extended periods of time due to the COVID-19 pandemic, 18-year-old Shadae Leslie saw it as a perfect opportunity to hone her artistic abilities and launch her career as an artist.
Leslie, a student at the St Vincent and the Grenadines Community College has always considered herself to be an artistic individual. But it wasn't until the pandemic that she realized her true potential and embarked on officially launching her art business.
"I had a lot of time to play with and one day, I just decided, let me go and paint and then after that, my parents just encouraged me to do more, and I continued and continued…" she told SEARCHLIGHT in a recent interview.
When she first started painting, the artist did so using cardboard and waterpaint. But with the encouragement of her parents, she has since upgraded to canvas, acrylic paints and other painting materials.
In fact, her first painting done on canvas is mounted in her father's office, where she received a lot of exposure for her work.
Although she is one of the newer artists in the local industry, Leslie has already managed to sell quite a bit of her work already.
"…My reason for doing art is that I'm generally a quiet person. I'm not outgoing at all and if there's anything going on with me or if I don't know how to express myself, I keep everything inside of me," she explained.
Leslie said that for her, art is an opportunity for her to express herself when she is caught in those moments.
She therefore hopes that her art will inspire persons "to reach the extra mile, to do what they love no matter what and that negativity will always find a way into your life but there is a way out of everything and positivity will become greater than negativity".
Books and videos about artistic techniques have helped the teenager to refine and build her artistic skills. And as an individual who pays attention to detail, she has spent quite a lot of time ensuring that she produces quality work.
In her portfolio, Leslie has abstract and contemporary paintings, as well as scenic, portraits and still life.
If persons were present at the first ever Paradise Beach Hotel's Farmer's Market on July 5, they would have caught a glimpse of some of the artist's work.
Leslie said her art pieces are available for sale and she can be contacted via her art page on Instagram @s_art784 or e-mail; [email protected]