Posted on
Vendors who ply trade outside Massy, Arnos Vale, told to move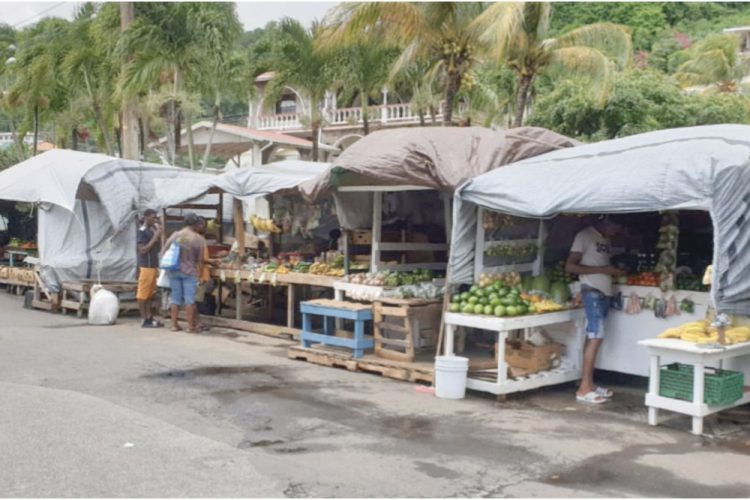 by Lyf Compton
Vendors who ply their trade outside the Massy Supermarket at Arnos Vale have until Thursday, July 16 to find an alternative location.
A July 9, 2020 letter to the vendors from Physical Planning and Development Board asked them to remove their structures or face having them demolished.
Yesterday, Andrew Lynch, who has been vending in the area for 10 years told SEARCHLIGHT that he was approached by the police and members of planning department last week and told he had to move.
"I ask them like this, 'where you going to put we?' They got nowhere to put we, but they sure we got to move from here. So, I say this is murder now because I got my kids to mind, my bills to pay, family. So, what we going and do?" Lynch questioned.
The vegetable, fruit and food vendor said it is hard to find another spot and no spot has been allocated to any of them.
Another vendor, Jamal Farrell from Arnos Vale said he was told that they are occupying half of the road and they must move.
"I don't understand, I have my child. Them ain't want me feed my child, they want to cut down my breadfruit tree, I can't understand," said Farrell who is begging for help.
He said he has been vending at the spot for about two and half years selling fruits and vegetables. Farrell said that even as a schoolboy, he was "hustling" here and the stall helped with money to go to school.
"Come like them coming like a bully, nah. Them don't want we strive I believe. They want we thief and rob, they want we do that, but we ain't going and do that. I am 19 years old; I here since I 17," said Farrell who sells along with his friends Prince Charles and Atiba "Alka" Campbell.
Natasha John has been selling in the area for three years.
"They say we have to leave, we have one-week notice. We ain't feel good right now, I upset. I don't have any plans where I going now," John said while revealing that she has two daughters, one in form one and the other in grade 5.
"I dey in rent house. I don't know what to do now," said John.
She said she was told that persons living in the area have complained about their presence, and they were also told that they are taking up too much space in the road.
Kentish Bowens sells coconut water and has been doing so for two years.
"This is my breadfruit tree and this is how I maintain my children and moving from here, I don't know what is going to happen," said Bowens whose children are in grade six, form one and form three.
"I can't maintain them without this because this is what I live by," he said, while adding that he was thinking about going to the bus stop area in Arnos Vale, but was told by the authorities that he could not.
He is wondering why they weren't given the same deal as the vendors who were removed from the seawall at Little Tokyo in Kingstown in May.
Those vendors, who were moved to facilitate the commencement of the Kingstown Port Modernization Project, each received compensation of EC$4500, which represents income support for three months.
Romano Cupid of Arnos Vale sells fruits and has been at that spot for more than 10 years.
"I here since the first supermarket. I deserve something. They couldn't do something for we? Is now them choosing this?
"We is dog? And this question for Ralph, when you hear this term come, I wonder if he think he going win? He better find that out, he going lose cause real vendors feeling this all over the place and he say he going move the rest, the worse thing he going do."
Delroy Williams also sells fruits, vegetables and coconut water and has been doing so for 10 years.
"I feel real bad. I don't know what to do now because I don't have no trade. Them ain't tell we where to go because they tell we they can't do nothing for we," Williams said.
Town Planner Dornet Hull could not be reached for comment yesterday.
The government has just announcement completion of work on the 'Uptown Vendors' Market' situated in the former Customs Warehouse on Upper Bay Street.
The market consists of 99 stalls for vendors, temporary storage space, administrative offices, washrooms, and a garbage disposal section.
It is the first of three such markets the Government is aiming to officially open by August this year.
The vendors at Arnos Vale have not been told if they will be given a space in the recently finished facility or the other two that are to be opened soon.